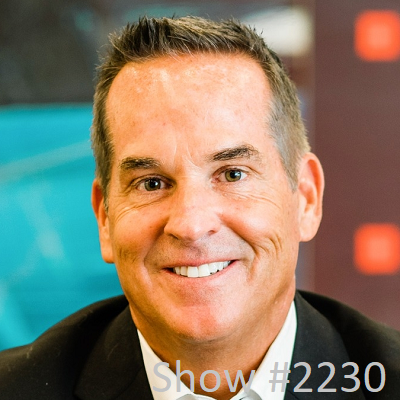 05 Jun

June 5, 2023 – FUD Factor Brendan Keegan, AI for Entrepreneurs Jeff Bermant and Building a Coaching Biz Corey Dissin



Brendan Keegan – CEO of Merchants Fleet and Author of The FUD Factor: Overcoming Fear, Uncertainty & Doubt to Achieve the Impossible – Overcoming Fear
The first thing that has to happen is someone needs to make a
conscious decision that they want to be a leader.
Brendan Keegan is chairman, CEO and president of the board for Merchants Fleet, the fastest-growing fleet technology company in North America. Brendan is the creator of the bFEARLESS movement. He also is the author of three books, including his newest, The FUD Factor: Overcoming Fear, Uncertainty & Doubt to Achieve the Impossible. Keegan has contributed more than 200 articles to Fast Company, Inc. Media, Entrepreneur, Newsweek, Fox Business and Harvard Business Review. During Keegan's time at Merchants Fleet, the company has been named a two-time Inc 5000 Fastest-Growing Private Company, Deloitte Best Managed Company and a Fast Company Top 10 Most Innovative Company. Brendan P. Keegan has spent a lifetime facing down fear, uncertainty and doubt in order to make his visions a reality. And for the hundreds of thousands of people who have been inspired by his revolutionary approach to leadership, he offers an unmatched mix of creativity, generosity, wisdom and tenacious commitment to making a positive impact on the world. An award-winning six-time president and chief executive officer, Brendan is well-known in the business world for his ability to envision outcomes that seem audacious, or even impossible — until he makes them a reality. As the current Chairman, CEO & President of the Board for Merchants Fleet, the fastest-growing fleet technology company in North America, he has created a culture of innovation that empowers employees, partners and investors to transform the industry. Brendan has dedicated himself to cracking his own code and building simple, repeatable systems that anyone can use to live and lead without limits. He shares his insights through regular contributions to Forbes, Fast Company, Inc., Newsweek and other publications, along with his books, blog posts, podcasts and speaking engagements.





Jeffrey Bermant – CEO of TUSK – AI Has a Political Slant
The CEO of ChatGPT admitted that it has a left-leaning bias.
We decided to modify it and bent it to the right!
Jeffrey Bermant, the CEO of TUSK, the Free Speech browser, is a Patriot who loves the United States of America with all his heart. That's why he's putting his money where his mouth is in founding TUSK. Jeff has taken Mark Levin's call to action seriously. When asked "What should I do right now?', Levin replied, "…You should get involved right now." After graduating from USC with a major in U.S. history, Jeff Bermant founded one of the largest real estate development groups in Santa Barbara, California before his passion led him into the digital world of browser development with products like Cocoon VPN and Cocoon MyData Rewards. An entrepreneur with over thirteen years in the field of browser development, combined with his deep love of America, Jeff Bermant is the right person at the right time in history to effect change. Jeff Bermant, the creator of Cocoon MyData Rewards™, believes that individuals deserve to be compensated for their own data. He established this innovative platform in response to the longstanding practice of browsers and search engines collecting user data and profiting billions of dollars from its sale. Recognizing the multitude of people left marginalized by this system, Bermant felt compelled to take action. Cocoon MyData Rewards™ offers a user-friendly and anonymous solution, allowing individuals to effortlessly sell their online data. Now, users have the autonomy to decide whether to capitalize on the sale of their anonymized data or maintain the utmost privacy. In 2008, Jeff Bermant founded Virtual World Computing with a resolute commitment to delivering a superior browsing experience encompassing robust privacy controls. Now, he is spearheading a new wave of change on the internet, empowering users to reclaim control over their data and offering an unparalleled opportunity for anonymous data monetization. With MyData Rewards™, users can tap into the expansive billion-dollar online data monetization industry, revolutionizing the way individuals profit from their data. Virtual World Computing has steadfastly prioritized its users throughout its existence. They continuously strive to enhance user experiences and bolster their earning potential. Bermant takes pride in emphasizing that their company ethos revolves around earning money for the user, rather than solely from the user, establishing them as a truly user-centric data company. Jeff Bermant eagerly welcomes opportunities to engage with guests on a variety of compelling topics. These include delving into how tech giants capitalize on user data for their own substantial profits and highlighting the urgency for data profit sharing. Additionally, he can share invaluable insights on managing a startup software company, shed light on the reasons behind users' willingness to share their data with Cocoon, and discuss the future of data monetization, Cocoon's vision, and strategies to maximize profits for users who opt to share their data.





Corey Dissin – Founder of The Corey Dissin Companies and the Author of GOING THE DISS-TANCE: 10 Rounds to a Championship Life and Career: Life Lessons Inside a Tribute Wrapped in a Memoir – Building a Coaching Biz
If you are a coach or aspire to be a coach, you need to build
know, like and trust. Don't worry about your crazy certifications
and try to tell people how great you are, nobody cares. When
was the last time you spent a lot of money with someone that
you did not know, like or trust?
Corey Dissin is a multifaceted entrepreneur and the owner of The Corey Dissin Companies, a thriving organization encompassing three main divisions. He is also the author of the inspirational book titled "GOING THE DISS-TANCE: 10 Rounds to a Championship Life and Career: Life Lessons Inside a Tribute Wrapped in a Memoir." Corey Dissin knows GROWING YOUR NETWORK AND YOUR BUSINESS CAN BE TOUGH. COREY DISSIN IS TOUGHER. That's why so many professionals trust the services of the alpha-dog executive, entrepreneurial evangelist, and author of GOING THE DISS-TANCE. Whether as a one-on-one marketing advisor, revamping your brand identity, or enlisting his virtual administrative assistants, Corey will have your back to develop a pragmatic and personalized fight plan to organize your time, get you out of your own way, and 10x your life and career. Under The Corey Dissin Companies, Dissin leads a diverse range of services tailored to different industries and professional needs. The first division, known as the Marketing Strength Coaching Program, provides coaching and guidance in the voiceover industry as well as other industries. With Corey's expertise, clients receive personalized support to differentiate themselves, enhance their online presence, and implement effective marketing strategies. This includes refining their unique selling position, optimizing their social media profiles, creating engaging content, organizing marketing campaigns, and improving sales techniques. The second division, known as The Dissin Design Team, offers creative services for businesses of all sizes. Specifically in the voiceover industry, the team provides services such as logo design and branding, print design, web design and development, e-commerce development, digital ads, and search engine optimization. In other industries, they offer similar services to help businesses establish a strong brand identity and visually appealing materials. Additionally, Corey Dissin introduces "Corey's Business Bodyguard," a virtual team designed to alleviate stress and anxiety by assisting with various administrative tasks. This dedicated team provides support in handling time-consuming, draining, or unpleasant tasks, allowing business owners to focus on more important aspects of their work. Aside from his entrepreneurial ventures, Corey Dissin is the author of "GOING THE DISS-TANCE," a motivational book that combines life lessons, career advice, and personal anecdotes. Through his book, Dissin shares his experiences and wisdom, inspiring readers to strive for success in both their personal and professional lives. Corey Dissin's contributions to the voiceover industry and his dedication to helping businesses thrive have earned him a reputation as a trusted and influential figure. With his diverse skill set and commitment to excellence, Corey Dissin continues to make a significant impact in various industries through The Corey Dissin Companies.