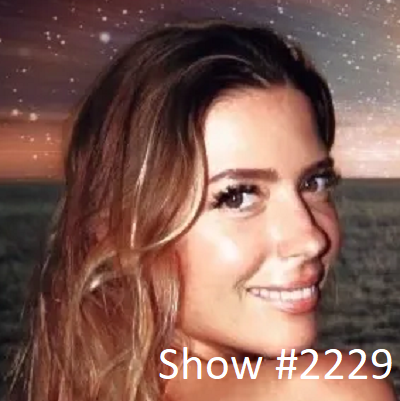 02 Jun

June 2, 2023 – AI Owner Milan Kordestani, IBM Cloud Briana Frank and Heart to Brain Tatiana Flow



Milan Kordentani – CEO of anKord and the Author of "I'm Just Saying: A Guide to Maintaining Civil Discourse in an Increasingly Divided World"
We are the most creative beings. With the help of AI, the only thing
in our way is our imagination and the ability to communicate your
vision. The future of work is your ability to articulate your vision.
Milan Kordentani is the CEO of anKord and the Author of "I'm Just Saying: A Guide to Maintaining Civil Discourse in an Increasingly Divided World." Milan is a social entrepreneur and author who advocates for common-ground solutions to systemic socioeconomic problems. Kordestani's environmental studies background allowed him to understand humanity's impact on earth systems and to see why societal attempts to mitigate the environmental crisis have failed. As a result, he shifted his focus to founding numerous businesses – Nota, Audo, and Guin – each of which offers a sustainable solution for a core systemic issue across civil discourse, education, and culture. Through his businesses and writing, Milan encourages the next generation to find solutions that drive positive societal change. He has published his perspectives on topics like civil discourse, the future of work, conscious capitalism, and the publishing industry regularly in outlets such as HuffPost, Entrepreneur, and Rolling Stone.




Briana Frank – Vice President of Product & Design for IBM Cloud – Protecting Consumer Data in the Cloud Amidst Growing Cyberattacks
We have a Council that we have built with over 80 different banks and
regulators, and we use their collective intelligence to build a framework with
security control built in to the cloud that allows you to build the
applications in a really secure way.
Briana Frank is Vice President of Product & Design for IBM Cloud and an entrepreneur with a proven track record of building high-growth award-winning products by listening to the client's need and following through with experiences that delight users while delivering on-time and on budget. Briana designed and led teams that built products such as the IBM Cloud Kubernetes Service, Red Hat OpenShift on IBM Cloud, IBM Cloud Satellite, and IBM Cloud Code Engine. These products set the bar for user experience best practices and in turn, were sold and consumed by users in a high-growth model. Briana builds high-performing teams and fosters a culture of inclusion and learning which powers continuous innovation. Briana is an entrepreneur and a problem solver who translates that energy into building great products. She leads the Offering Management and Design team that built the IBM Cloud Kubernetes service in five months and now manages tens of thousands of clusters worldwide.





Tatiana Flow – Abundance Specialist and Author of Elegantly Simple
As soon as you like yourself and do you love your life, you love what
you're doing and do you love yourself then everything else will unfold.
Tatiana Flow – Abundance Specialist and Author of Elegantly Simple. Tatiana Flow is a spiritual mentor dedicated to guiding individuals towards a life lived intuitively, allowing them to embrace and manifest abundance, which she perceives as limitless within the Universe. With certifications as a kundalini activation energy worker, theta healer, NLP and Reiki specialist, Tatiana possesses a diverse range of skills. She is also the author of "Elegantly Simple," a compact guidebook for personal transformation. By sharing her knowledge and expertise, Tatiana helps both men and women rediscover and reconnect with their authentic power. Tatiana's mission revolves around bridging the gap between the intellectual and emotional realms, between spirituality and materiality, recognizing that this division often hinders individuals from attaining true fulfillment, love, purpose, abundance, and freedom. She understands that decision-making based solely on logic and without the guidance of the heart, without embodying one's spiritual essence on a daily basis, leads to suffering, pain, or a sense of emptiness. Having experienced both perspectives firsthand, Tatiana embarked on a lifelong quest for knowledge from an early age, delving into various religions, philosophies, esoteric practices, and tantra. Later in life, she expanded her studies to include psychology, NLP, quantum physics, and more. Coming from a modest background in the USSR, Tatiana forged a successful career in finance, achieving the American dream with a luxurious lifestyle, a home in the Hamptons, and extensive travel. Her achievements were the result of gradually applying her deep interest in spirituality and psychology to her own life. Now, Tatiana eagerly imparts the fundamental truth that spiritual and material aspects should not be separated but rather merged into a harmonious whole. She emphasizes that spirituality can be harnessed to create a purposeful, abundant life. This, she believes, is the essence of our existence. Tatiana's business career is also remarkable, as she worked in finance for 15 years alongside Wall Street professionals, serving some of the wealthiest individuals in New York real estate. She successfully raised funds for her start-up in Silicon Valley, which began as an idea and reached a valuation of $4 million before being profitably sold. Throughout her journey, Tatiana has gained valuable insights. She firmly believes that the most worthwhile investment one can make is in themselves, their health, and personal growth, rather than stocks and bonds. She also recognizes that financial freedom cannot be solely measured by the amount of money in one's account. Above all, Tatiana highlights that people invest in one's energy above anything else, including the business plan.