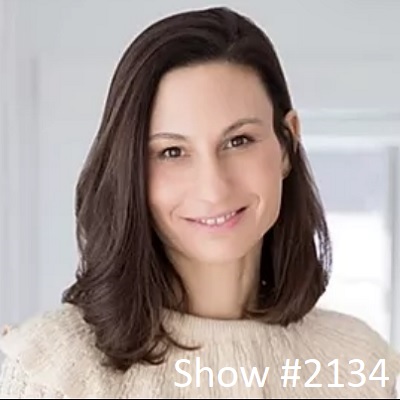 09 Dec

December 9, 2022 – It's Golden Julie Wald, Show your Value Jack & Patti Phillips and Tort Reform Tiger Joyce



Julie Wald – 2021 Top 100 Woman Leader In HealthCare, Bestselling Author, and Top-End Executive Coach
We as colleagues need to connect in meaningful ways outside
of just meetings and sitting in front of our computers. In this work
from home culture, it's very hard find those opportunities for connection.
Julie Wald was Named one of The Top 100 Women Leaders in healthcare of 2021 by Women We Admire, Author of the #1 Amazon bestseller, Inner Wealth: How Wellness Heals, Nurtures and optimizes Ultra-Successful People Over 25 years experience as a clinical social worker, executive coach, and yoga and meditation teacher Founder and CEO of Golden (formerly Namaste Wellness), a global leader in wellness education and employee self-care programs. Golden helps organizations across the country and around the world hire us to help their employees beat burnout, soothe stress and avoid overwhelm. Our specialty is helping other professionals learn about self-care, experience it, and engage in it on a routine basis. We make evidence-based recommendations. Our clients include private equity firms, credit unions, school districts, consulting companies, accounting firms, healthcare organizations, tech companies, and senior living communities.



Jack Phillips, PhD – Winners of the Association for Talent Development's 2022 Thought Leader award and The author of Show the Value of What You Do: Measuring and Achieving Success in Any Endeavor
Your why is more important than your ROI,
but the why leads to the ROI.
Jack J. Phillips, Ph.D., chairman of ROI Institute, is a world-renowned expert on accountability, measurement, and evaluation. Jack provides consulting services for Fortune 500 companies and major global organizations, and regularly consults with clients in manufacturing, service, and government organizations in 70 countries. The author or editor of more than 100 books, he conducts workshops and presents at conferences throughout the world and has received several awards and honors for his work. Jack has enjoyed almost 30 years of corporate experience in the aerospace, textile, metals, construction materials, and banking industries. He has served as training and development manager at two Fortune 500 firms, as senior human resource officer at two firms, and as president of a regional bank. Also, he served as management professor at a major state university. Jack has undergraduate degrees in electrical engineering, physics, and mathematics; a master's degree in Decision Sciences from Georgia State University; and a Ph.D. in Human Resource Management from the University of Alabama. He has served on the boards of several private businesses, nonprofits, and associations, including the American Society for Training and Development, the National Management Association, and the International Society for Performance Improvement, where he served as president (2012-2013).

Patti P. Phillips, Ph.D – Chief Executive Officer and Board Member and The author of Show the Value of What You Do: Measuring and Achieving Success in Any Endeavor
Patti P. Phillips, Ph.D., is co-founder and CEO of ROI Institute. She is a driving force in the global adoption of the ROI Methodology and measurement and evaluation to influence organizational change. Her work as an educator, researcher, consultant, and coach supports leaders as they build the capacity to create and deliver value from investments in all types of endeavors. Her work spans private, public, nonprofit, and nongovernmental organizations. Patti serves as a member of the Board of Trustees of the United Nations Institute for Training and Research (UNITAR) and the UN System Staff College faculty in Turin, Italy. Additionally, she is chair of the Institute for Corporate Productivity (i4cp) People Analytics Board; Principal Research Fellow for The Conference Board; board member of the International Federation for Training and Development Organizations (IFTDO); and board chair for the Center for Talent Reporting (CTR). In 2015, she was honored by the Association for Talent Development as a Certified Professional in Talent Development (CPTD) Fellow for her contribution to the professionalism of the talent development field. Patti contributes to various journals and is the author of books on measurement, evaluation, and ROI. CNBC, Euronews, and other news outlets feature her work.



Tiger Joyce – President of American Tort Reform Foundation
Georgia is the number one judicial hellhole in
the United States!
Lawsuit abuse results in over $284 billion in excessive tort costs. In other words, lawsuit abuse costs every American about $1,303 each year in a "tort tax". According to the American Tort Reform Foundation, Judicial Hellholes® are places where lawsuits and abuse of the court system are the norm. The surge in excessive and high-dollar nuclear verdicts results in higher costs on consumer goods and fewer jobs, all while American families are already feeling the pinch of inflation. This year in Judicial Hellholes®, lawsuits were filed that ignore one of the most basic tenets of tort law – claiming an actual injury. Oftentimes, these are lawsuits filed by serial plaintiffs, who file numerous, practically duplicate lawsuits, and who haven't actually suffered any real injury. Trial lawyers might promise solutions with lawsuits, but many take advantage and leave vulnerable communities lacking resources due to unseen costs and delayed resolution with prolonged litigation. On <DATE>, Tiger Joyce of the American Tort Reform Foundation will be available for interviews. He will discuss the jurisdictions that made this year's list and how lawsuit abuse impacts everyday Americans.