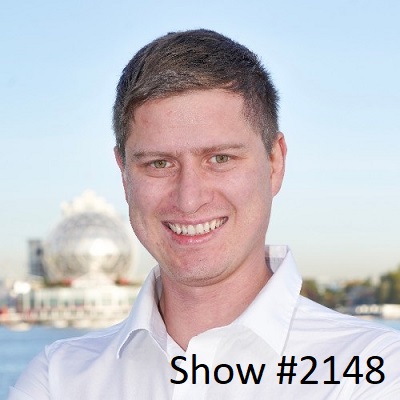 09 Jan

January 9, 2023 – Be Visionary Marty Strong, International Tech Recruiting Ilya Brotzky and Link Builder Aaron Anderson



Marty Strong – Author of Be Visionary: Strategic Leadership in the Age of Optimization
Every day spend 20 minutes, clear your mind of your To Do List, and
think about the future. Say what do I want to look like? What do I
want my family to look like? What kind of house do I want to live
in? What kind of team do I want working for me?
Marty Strong has an accomplished leadership career spanning four decades. He worked his way from enlisted SEAL Team member to the SEAL Officer corps, retiring with twenty years' service in that highly-decorated and esteemed military unit. After retiring from service, Marty was a successful account vice president and investment advisor to high net worth individuals and institutions with the United Bank of Switzerland (UBS). Today he is a CEO, Chief Strategy Officer, board director, and business investor. Marty is also a sought-after speaker and leadership consultant. For many years Marty gleaned wisdom from the best and brightest writers and thought leaders in strategy, human systems design, human capital management, and leadership. As he began to mentor and coach his own executives and others outside his organization, Marty had difficulty locating guides, books, or coherent musings that were not solely focused on large corporations. This frustration motivated Marty to write his first leadership book, Be Nimble – How the Navy SEAL Mindset Wins on the Battleground and in Business, set for release January 1, 2022. His second business leadership book, Be Visionary – Strategic Leadership in the Age of Optimization, is set for release in October 2022.



Ilya Brotzky – Founder of VanHack
In the beginning, we did not invest too much in the product. We
used an e-mail list, a Google form and an Excel spreadsheet. We
did everything manually, it was all very basic.
Ilya Brotzky is Founder of www.vanhack.com which has been featured in Fast Company, Forbes and Time, Ilya Brotzky is the CEO and CoFounder of VanHack, one of Canada's leading HR Tech startups. Ilya leads a team of over 30 employees from 11 countries with the mission of creating a borderless world for tech talent through jobs. He holds a Bachelors of Applied Economics from Cornell University and has helped raise over $100,000 for a variety of charities in Africa and South America.



Aaron Anderson – Linkpitch and Host of Let's Talk Link Building Podcast
There are a lot of misunderstandings about link building and what
it actually means. There are lots of strategies and link building
approaches that no longer work. Link building where people are
adding links to their sites because great content or your service
is of value, it is still very important and one of the top ranking
factors for Google.
Aaron Anderson is an expert on SEO and helping companies build strategies through high-quality link-building services. Aaron has been working in the SEO industry full-time since 2013, he saw a big demand for high-quality link-building services, so he started a link-building agency back in 2018. His approach to link building is purely outreach driven.