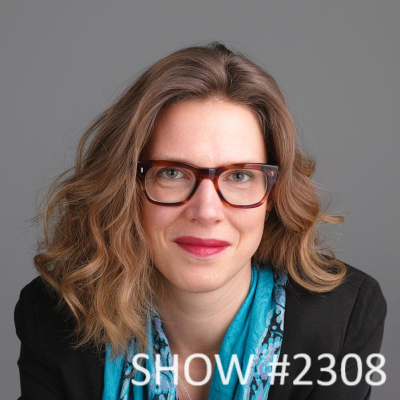 17 Nov

November 17, 2023 – Stress Killer Anna Gudmundson and Non-Food Franchising Jon Ostenson



Anna Gudmundson – CEO at Sensate – 'Best Innovations of 2022' by Time Magazine
We cannot and should not avoid a stressful situation. Sometimes
we need to have very challenging conversations. We should also
stretch ourselves professionally. The question is how are we dealing
with it. How are we able to both have the stressful moment and
then reconnect and reset the systems. The recovery is extremely
important. Over time we hope to increase stress resiliency. 
Anna Gudmundson is CEO of getSensate.com. Anna has been a senior tech business leader in the international high-growth scene for 15+ years. Her present-day focus is on transformational technologies which impact the world in a significant, positive way while also having strong commercial viability. As CEO of Sensate, a consumer stress-management technology company, she is tackling one of the biggest challenges of our time: stress and mental health. Apart from a passion for technology business, Anna has a huge curiosity for personal growth and the human potential – both in what she produces and how she leads. Anna leads Sensate to mobilize cutting edge science and technology, informed by wisdom drawn from old traditions and practices, to bring greater calm and consciousness to our current, overstressed world. Sensate is in 'Best Innovations of 2022' by Time Magazine. Anna Gudmundson, a seasoned professional in the tech industry, has cultivated a career marked by diverse roles at VP/C-level, including positions as CEO and CPO. With a trajectory spanning both consulting and permanent roles, Gudmundson has recently honed her focus on health, fitness, and wellbeing tech, along with a keen interest in data/AI. Despite encountering initial challenges in securing programming positions in the early 2000s, Gudmundson swiftly transitioned into management roles, excelling at Lucent-Technologies due to her surprising blend of technical knowledge, people skills, negotiation prowess, and organizational acumen. Her journey in the emerging mobile industry led to delivering systems and services for major players such as Vodafone, Metro PCS, and T-Mobile. Gudmundson's unique perspective as a first-generation immigrant from war-torn Bosnia, combined with her early hardships, instilled in her a profound understanding of financial stability and independence. Embracing macro trends and shifts, she continually gravitates towards innovative endeavors. Gudmundson's commitment to fostering diversity in STEM fields is evident, having had no preconceived notions about certain people excelling in specific subjects. She underscores the importance of role models, especially for young individuals aspiring to break into the tech industry. Currently steering a tech startup, Gudmundson acknowledges the challenges, emphasizing the need to manage energy in the fast-paced and demanding startup environment. Her organizational approach reflects a commitment to remote work, a flat team structure, and a focus on purpose, with mindfulness practices incorporated into meetings. Motivated to facilitate change in traditional hierarchical structures, Gudmundson believes in deeply involving the team in organizational processes for enhanced motivation and skill development. Beyond her professional achievements, Gudmundson takes pride in personal growth and the positive impact her team has made through a crowdfunding campaign, enabling broader participation in their company's growth. Her startup, focused on providing stress relief and well-being through innovative technology, aims to serve a global audience facing stress-related challenges. Looking ahead, Gudmundson envisions an exciting period of reinvention, with plans to expand product offerings, conduct research, and reach a wider global audience. Her mission is rooted in bringing stress resilience and well-being to millions globally, leveraging cutting-edge technology developed over five years of dedicated work.





Jon Ostenson – CEO of FranBridge Consulting and Author of Non-Food Franchising: The Better Path to Business Ownership
It's easier to get into Harvard than to purchase a Chick-fil-A franchise.
Jon Ostenson is the CEO of FranBridge Consulting and Author of Non-Food Franchising: The Better Path to Business Ownership. Jon Ostenson is a top 1% national franchise broker, investor, author, and international speaker specializing in the area he has coined as 'Non-Food Franchising'. Having served as the President of an Inc. 500 franchise system and now as a multi-brand franchisee, himself, Jon is uniquely positioned to educate others on franchising and franchise selection. Jon serves as CEO of FranBridge Consulting and has helped thousands of entrepreneurs and investors explore business ownership and investment opportunities. Jon is the author of the book "Non-Food Franchising'' and is a frequent contributor and thought leader for publications on the topic of franchising and franchise investments. Prior to FranBridge, Jon was the President of ShelfGenie, a national franchise system with 200+ locations. Prior to FranBridge, Jon was the President of ShelfGenie, a national franchise system with 200 locations. Before he had his start in franchising with ShelfGenie, Jon spent 15 years in the corporate world, most recently as the Vice President of Sales for Carter's Inc., responsible for over $350M in annual sales. Jon began his career as a Consultant with Accenture, often working Internationally on behalf of clients. Jon serves on the Board of the Entrepreneurs Organization and is active in supporting charitable organizations such as Growing Leaders and Hope International. Jon has BBA and MBA degrees from the University of Georgia and lives in Atlanta where he and his wife, Jenny, have 3 children and are very active in the community.