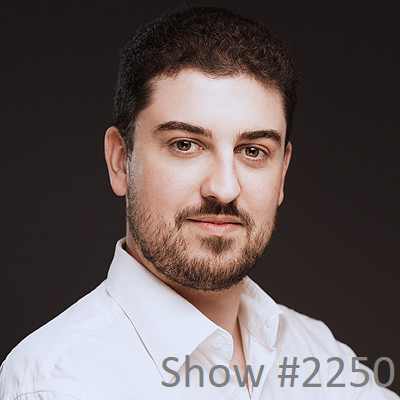 19 Jul

July 19, 2023 – Measuring Streaming Lukasz Jeziorski and the 9th Man Steve Berry



Lukasz Jeziorski – CEO of PlumResearch
We don't focus on viewing data for the top ten or even 100 shows
in a month. We aim to look at the long tail of content and to serve
every single production company out there that sells content to
a major streaming platform.
Lukasz Jeziorski is the founder and CEO of PlumResearch, an expert with over 15 years' experience in tech industries. He started the company from scratch and built it up into the success it is today. His experience and expertise have established PlumResearch as a trusted partner for business in the streaming and entertainment space. Lukasz leads a team of experts producing products to address the entertainment industry's needs. PlumResearch has become a leading player in the entertainment industry, providing data-driven insights to help companies make informed decisions and drive growth. Lukasz is a member of the International Academy of Television Arts & Sciences (International Emmy Awards), which demonstrates his commitment to advancing the entertainment industry through innovative and data-driven solutions and he also holds an MBA in Entrepreneurship. Prior to founding PlumResearch, Lukasz worked as a Product Manager at Red Sky, where he was responsible for building software products and international distribution. Before that, he held various managerial positions in the tech and entertainment industry, including his own eSports start-up.





Steve Berry – NY Times Best Selling Author of "The 9th Man (Luke Daniels Book 1)"
You have to sit down and physically do it. Writing is a discipline.
You have to set up a schedule. When I was a lawyer, I wrote
every day from 6:30 to 9:00 AM.
Steve Berry is the New York Times and #1 internationally bestselling author of sixteen Cotton Malone adventures, five stand-alone thrillers, and several works of short fiction. His books have been translated into 41 languages with 25,000,000 copies in 52 countries. They consistently appear in the top echelon of The New York Times, USA Today, and Indie bestseller lists. Somewhere in the world, every thirty seconds, a Steve Berry book is sold. History lies at the heart of every Steve Berry novel. It's his passion, one he shares with his wife, Elizabeth, which led them to create History Matters, a foundation dedicated to historic preservation. Since 2009 Steve and Elizabeth have crossed the country to save endangered historic treasures, raising money via lectures, receptions, galas, luncheons, dinners, and their popular writers' workshops. To date, 3,500 students have attended those workshops, with over $1.5 million dollars raised. Steve's devotion to historic preservation was recognized by the American Library Association, which named Steve its spokesperson for National Preservation Week. Among his other honors are the Royden B. Davis Distinguished Author Award; the Barnes & Noble Writers for Writers Award given by Poets & Writers; the Anne Frank Human Writes Award; and the Silver Bullet, bestowed by International Thriller Writers for his philanthropic work. He has been chosen both the Florida and Georgia Writer of the Year. He's also an emeritus member of the Smithsonian Libraries Advisory Board. In 2010, a NPR survey named The Templar Legacy one of the top 100 thrillers ever written. Steve was born and raised in Georgia, graduating from the Walter F. George School of Law at Mercer University. He was a trial lawyer for 30 years and held elective office for 14 of those years. He is a founding member of International Thriller Writers—a group of nearly 6,000 thriller writers from around the world—and served three years as its co-president.