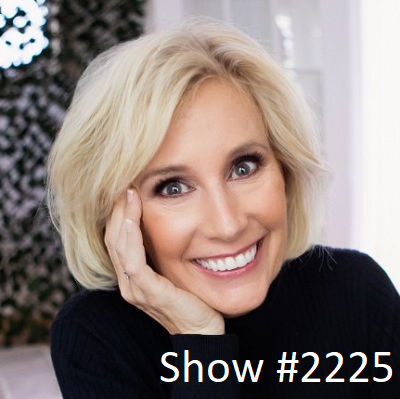 24 May

May 24, 2023 – Democratizing Philanthropy Wendy H. Steele and Movie Songwriter and Solar Guru Bryan Gentry



Wendy H. Steele – Founder and CEO of Impact100 and Author of Invitation to Impact: Lighting the Path to Community Transformation 
There are ways to explore and really understand where your contributions
go and how much of that dollar goes to the nonprofit's mission. Transparency
and wider access to information is always a good thing.
Wendy H. Steele is Founder and CEO of Impact100, a global nonprofit organization dedicated to uniting and empowering women to create a transformational impact in their communities. Since launching Impact100 in 2001, Wendy has dedicated her life to encouraging women to see themselves as both activists and philanthropists, bringing them together in order to unite their efforts, support one another, and enrich their communities as a team. What began as a grassroots effort in Cincinnati has today collectively granted more than $123 million to worthy nonprofits across more than 65 local chapters and four countries. The importance of giving back with the intent to leave the world a little better than she found it was instilled in her from a young age, leading her to see that all of us have something important to give. Wendy believes that, in giving to others, we gain in incalculable ways, and we can encourage others to do the same. Wendy's debut book, Invitation to Impact: Lighting the Path to Community Transformation (MFF Publishing, April 18, 2023), shares her personal journey building one of today's most powerful grassroots organizations and invites women to become part of the solution by impacting their very own communities. Part business book, part memoir, Invitation to Impact provides insights for catalyzing meaningful change by giving women a seat at the table and a chance to join the movement—or spark one within themselves. In recognition of her work with Impact100, Wendy was selected by Forbes for the 2021 50 over 50 Impact list recognizing women changing communities through social entrepreneurship, law, advocacy, and education. She was also featured as a guest speaker on TEDxBocaRaton in 2014 where she discussed what contagious generosity means and why we should all get involved. In 2020, Wendy was named a Distinguished Honoree of the Jones Prize in Philanthropy from the Institute of Private Investors, and she was also awarded the 2014 Jefferson Award for Public Service for her work with Impact100. She has been featured in several books, including The Transformative Power of Women's Philanthropy; Women, Wealth and Giving; Women's Giving Circles; and The Right Sisters – Modern Women Inventors. Wendy lives by the motto "Not I, but we." She believes that, in order to create a vibrant community, we must understand the community first. For Wendy, the most rewarding part of leading Impact100 is visiting local chapters to celebrate triumphs, big and small, and encouraging more than 30,000 women to make a difference.




Bryan Gentry – CEO of SunTap Power and the Author of  21 Hacks To Sell More Deals
If you are going to sell something, anything, in my case solar, you have
to act as if you are selling to your mom. That is the only way you are going
to be 100% real with your customer. You're not going to lie to your mom!
Bryan Gentry is CEO of SunTap Power and is a music producer, songwriter, and author. Born in Independence, Kansas, he has become a recognizable face in the entertainment industry, with a growing list of credits to his name. Bryan began his career in 2009, making music appearances in a number of TV shows and films. He quickly proved himself to be a versatile performer with Acting as well, with a range of abilities that allowed him to take on a variety of roles. In the years since, he has continued to hone his craft and develop his talents, becoming a sought-after talent in the industry. One of Gentry's most notable credits for music production to date was in the Bravo TV series " The Real Housewives of Miami," where he co-wrote the intro theme music entitled " Feel The Rush" by Adriana De Moura. In addition to his successful career in the entertainment industry, Bryan Gentry is also a business expert with a wealth of knowledge and experience in the solar industry. As the founder and CEO of SunTap Power, a solar consulting agency based in Tucson, Arizona, Gentry has made it his mission to help both residential and commercial customers save money on their energy bills while also promoting sustainable energy practices.