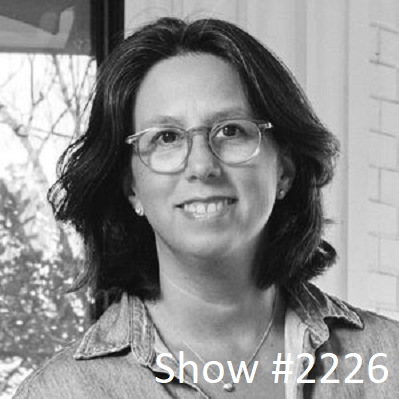 26 May

May 26, 2023 – Our Thesis Tested Antonella Pisani and a Career in Fiction Stona Fitch 



Antonella Pisani – Founder and CEO of Dallas-based Eyeful Media
One of the things that is most fun about starting a business
is centering it around your values and what is important to you.
Antonella Pisani is the founder and CEO of Dallas-based Eyeful Media, a digital marketing and consulting firm focused on performance marketing and digital strategy for mid-market companies. Eyeful Media is an intellectually stimulating environment that allows for team members a balanced life and social responsibility. Founded in 2017, the company has experienced exponential growth fueled exclusively through word-of-mouth referrals. As a result, Eyeful Media has ranked in the top 11% on the Inc. 5000 list for the past two years as one of the fastest-growing privately held companies in America, scaled at a 1178% growth rate. They also ranked #17 in Dallas, #37 in Texas, and #38 in all Advertising & Marketing companies. Antonella brings more than 24 years of digital experience with a focus on ecommerce leadership and digital marketing. Prior to starting Eyeful, she held VP and SVP roles at companies including Proflowers, Guitar Center, JCPenney, and Fossil. Antonella is an avid traveler and photographer, with a particular passion for visiting places off the beaten path including Antarctica, Easter Island, Bhutan and the Arctic. She is fluent in Spanish, Portuguese and knows enough French & Italian to get by with locals. Antonella is based in Dallas, TX and is a member of The North Texas Food Bank Advisory Council, and a member of the Dwell with Dignity Board of Directors. She is also the founder of Provision Promise.





Stona Fitch – Founder of Concord Free Press and the Author of Death Watch
Downsize your delusions! This holds true for any writer or entrepreneur.
Have reasonable expectations. Is this software that you are developing a
niche product? Is your book going to do OK or do you expect a colossal hit
and you are fooling yourself!
Stona Fitch – Founder of Concord Free Press and the Author of Death Watch. Also, he is the author of seven novels, including Give + Take and Senseless, which have been praised by critics and readers, published widely throughout the world, and produced as feature films. Born in Cincinnati, Ohio in 1961, Stona Fitch grew up in the midwest and south. While an undergraduate at Princeton, he received the Creative Writing Program's Lannan Award for Fiction. He also served as chairman of The Daily Princetonian, and wrote for The Anchorage Daily News. After graduation, Stona reported briefly for The Miami Herald before moving to Boston and joining its burgeoning underground music scene. In 1984, he joined the seminal Boston-based pop group Scruffy The Cat, playing electric banjo, mandolin, accordion, and organ—as well as writing songs. He recorded two albums—High-Octane Revival (a NY Times top release of 1986) and the highly regarded (and rare) Tiny Days—before leaving the band in 1987. During this time, he worked as a dishwasher and cook at the Hoodoo Barbeque, a notorious punk-rock hangout/crime scene in Kenmore Square. Sony Music has reissued all of Scruffy the Cat's music, while Omnivore Records has released The Good Goodbye: Unreleased Recordings 1984-1990. On July 25, 2015, Scruffy the Cat played the last set ever at T.T. the Bear's, the legendary Cambridge, Mass nightclub.