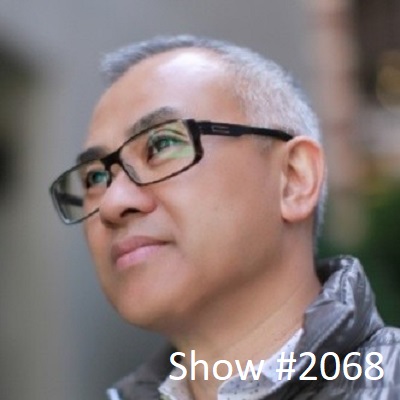 22 Aug

August 22, 2022 – Innovation Guru Soon Yu and Caffeine Interactive Dustin DeVries



Soon Yu – Innovation and Creativity Expert and Author of Friction: Adding Value By Making People Work for It
If you dream it, go for it. That act of going for it will create a
certain degree of positive vortex momentum that will attract
people, resources, and opportunities that you never knew was there.
Soon Yu is an international speaker, award-winning and best-selling author on branding, innovation, and design, and Forbes contributor who has been featured in the Wall Street Journal, Washington Post, Entrepreneur Magazine, and New York Times. His latest book, Friction, challenges businesses to consider adding MORE friction for their customers and employees in order to create greater engagement, meaning, belonging, rapport, assurance, competence, and exclusivity. His previous book, Iconic Advantage®, challenges businesses, from Fortune 500 to venture-backed startups, to refocus their innovation priorities on building greater iconicity, and offers deeper insights on establishing timeless distinction and relevance. He most recently served as the Global VP of Innovation and Corporate Officer at VF Corporation, the parent organization of over 30 global apparel companies, including The North Face, Vans, Timberland, and Supreme. While at VF, Soon commercialized a $2 billion innovation pipeline, established 3 global innovation centers, and initiated industry-leading design and innovation best practices. Prior to this, he worked at The Clorox Company and Chiquita Brands, where he won company-wide awards for best advertising, best promotion, and best new product, and gained industry recognition from the Webby Award, Favorite Website Award, and Dope Award. He has also been a consultant at Bain and Company, and a founder and CEO for numerous venture-backed startups and was recognized as a Northern California finalist for the prestigious Ernst & Young "Entrepreneur of the Year" award. He is a highly sought-after speaker on leadership, branding, innovation, design, and entrepreneurship, and has taught at the Parsons School of Design and often guest lectures at Stanford University (where he received his MBA and is active with the GSB Asian Alumni Association).



Dustin DeVries – Co-founder of Caffeine Interactive
When I quit the corporate world and went out on my own, I got four hours back every day. There are 4 hours of waste every day from conversations in the halls and meetings that I don't need to be at.

Be intentional about what you are focused on. Journaling has
helped me think about the various facets of my life physical,
occupational, social, intellectual, spiritual and emotional.
Dustin DeVries has been living and breathing software development for over 20 years. He is the Co-Founder of Caffeine Interactive Technologies, an agency that focuses on planning strategies and architecture, ensuring that software implementations are straightforward based on clear ways to measure success. He enjoys working with clients to build the right technology, whether it's a multi-tiered mobile app built with React and Laravel or a simple website based on WordPress. He received his Bachelor of Science in Computer Engineering from Texas A&M University. Dustin is proud to work with some of the most talented business analysts and developers in the industry. He is a solopreneur and has grown his company based on a 100% remote team which has been thriving for the last eight years. He believes that a work-life balance is essential to operate a business, overcome adversities, and find a bigger purpose in life.