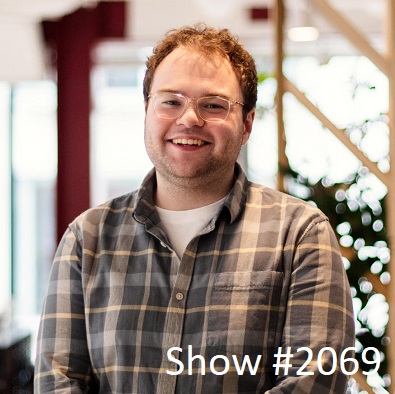 23 Aug

August 23, 2022 – British Unicorn Christian Owens, Blockchain ReTrust Omid Malekan and Hearing Aids
Christian Owens – CEO & founder of Paddle
There are three things that are really important for a business:
have a great product, support your customers, give them a great experience and find really good people to help you with it.
Everything else is a distraction, especially dealing with payments
and taxes and all of that stuff, which is what Paddle is great at.
Paddle is a payments infrastructure for SaaS businesses. Prior to Paddle, Christian Owens created his first software business from his bedroom at the age of 14. Having grown the business to over $1m in revenue he decided to quit school at 16 to focus on building startups and founded Paddle when he turned 18. Paddle attracts developers with over $1 billion in volume and integrates Alipay, Google Pay and iDeal, empowering software businesses to sell and grow globally. Paddle has raised $68million in Series C funding to aid their expansion in the US, and globally. In 2016, Christian was named one of Forbes' "30 under 30" and as a Thiel Fellow by the Thiel Foundation, which supports those who learn by doing rather than by following conventional paths like college. In early 2022, Paddle raised Series D which turned the company into one of a very few UK-based unicorns.



Omid Malekan – Explainer-in-Chief of Blockchain and Author of Re-Architecting Trust: The Curse of History and the Crypto Cure for Money, Markets, and Platforms
A lot of the existing ways in which we learn to trust each other,
whether it is through the banking system or Facebook,
are clearly not working.

Blockchain is simply a new way for communities of people
all over the world to build trust in a digital setting.
Omid Malekan is the Explainer-in-Chief of blockchain technology. He is an adjunct professor at Columbia Business School, where he lectures on blockchain and crypto. In addition to his newest title, Re-Architecting Trust, he is also the author of The Story of the Blockchain: A Beginner's Guide to the Technology That Nobody Understands. A nine-year veteran of the crypto industry, he spends most of his time as a consultant, educator, and advocate for this new way of building trust. He advises individuals, investors, and seed-stage startups to Fortune 100 companies. Omid spent three-and-a-half years as the in-house crypto expert for Citi Ventures and Citibank. There, he worked with executives across the bank and its biggest clients to help them design a strategy on blockchain, crypto, stablecoins, central bank digital currencies, and decentralized finance. He co-authored some of the bank's official positions and was part of the team that wrote a definitive GPS report on Bitcoin, which is to this day, the most read in Citi's thought leadership series' seven-year history. His essays on crypto and related topics have appeared in the New York Times, Wall Street Journal, Financial Times, Spectator Magazine, various industry publications, and his blog at Medium.com. Prior to his work with crypto, he was best known for several viral videos in the heyday of YouTube, an animated one of which found its way into the financial zeitgeist, possibly to the chagrin of former Federal Reserve Chairman Ben Bernanke, aka The Bernank. Malekan has spent years being confused about crypto, so you don't have to be. When not writing or teaching, he plays the part of ambassador, sitting between the people who push the envelope on what is possible and those who will be impacted should they succeed. He resides in a quiet corner of the Metaverse.



Kate Carr – President of the Hearing Industries Association (HIA) and
Thomas Powers – Ph.D., audiologist and industry consultant
For more information please visit: hearing.org
The FDA last week released a final rule that will allow for
the sale of hearing aids over-the-counter for adults who
have perceived mild to moderate hearing loss.
A big change in the marketplace related to hearing health and access to hearing aids was just announced. On August 16, the FDA released its final rule allowing adult consumers with perceived mild to moderate hearing loss to purchase certain hearing aids over the counter. This new category will expand access to hearing aids by creating additional pathways for a consumer to purchase a hearing aid online, in the mail, or in an array of brick-and-mortar outlets without the assistance of a hearing professional, thereby reducing the cost of treatment by not requiring the services of a professional. Hearing loss is a significant medical issue in the U.S. and an estimated 38 million Americans report having some degree of hearing loss. Hearing loss is unique to each person and can occur because of aging, noise exposure, medical treatment, injury or genetics and is associated with higher rates of isolation, depression, dementia and balance issues that can lead to falls that require hospitalization. Most people do not know if their condition is mild, moderate or greater, caused by another medical issue, or something as simple as ear wax. Modern hearing aids have come a long way—they are sleeker, more comfortable, technologically advanced and available at a variety of price points. However, innovation and broader access to hearing aids does not always correlate to greater adoption. Barriers to usage include stigma, denial of hearing loss, lack of insurance coverage, and concerns about cost. The hearing professional is an important part of addressing hearing loss. A hearing professional, such as an audiologist, an ENT (ear, nose, throat physician) or a hearing aid specialist, will perform a hearing exam to determine the severity of the hearing loss and advise on the options, associated cost, and if further medical treatment is necessary. Kate Carr, President of the Hearing Industries Association (HIA), a forum for hearing aid manufacturers, suppliers and providers, and Dr. Thomas Powers, an audiologist and industry consultant explain what this new FDA rule means for hearing health and what listeners need to know about hearing loss and treatment. HIA supports greater access to hearing aids and suggests that before making a purchase, having a hearing test by a professional is a smart move. Earlier this summer, HIA, in partnership with multiple industry leaders, professional and consumer organizations, announced the Hear Well campaign (hearing.org), which aims to educate the public about the importance of hearing health and the value of seeing a hearing professional.