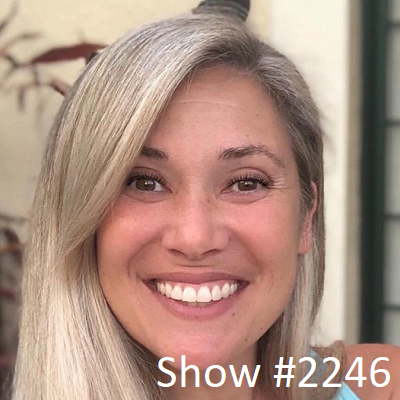 10 Jul

July 10, 2023 – Digital Agency Andrew Schulkind and Disney Travel Brooke Hails



Andrew Schulkind – Digital Strategist of Andigo New Media
There seems to be a greater understanding of the need for your content to
provide value. It must provide some information that is going to help your
prospect figure out the problem that they are trying to solve.
Andrew Schulkind is the Digital Strategist of Andigo New Media. Since 1996, Andrew Schulkind has been helping clients dive into one simple question: what does digital marketing success look like, and how can marketing progress be measured? With a passion for collaboration and meaningful consensus, Andrew founded Andigo to assist B2B marketers with finding the most productive mix of digital tools to support their brand and sales goals over time. The company's website and content work typically encompasses social media, SEO, email marketing, and other components, all with the primary goal of encouraging engagement. Andrew understands that getting the audience emotionally involved in a story requires solid information architecture, a great user experience, and compelling content, with a dash of common sense. Recognizing that he can't do it all alone, Andrew strategically partners with other professionals such as Sutton Creative and Baseline Group for Financial Services, and Creative 4 Media for healthcare and pharma projects. He also has a special commitment to working with mission-driven businesses, including B Corps and firms dedicated to conscious capitalism. Andrew's expertise and approach can be further explored through various publications and presentations. He has been a speaker at events such as Social Media Week NY and WordCampNYC, where he focused on content marketing and web development topics. His marketing technology writing can be found on the Andigo blog, in a monthly column on Biznology.com (with a focus on privacy issues), as well as in print and online publications such as The New York Enterprise Report, Social Media Today, and GSG Worldwide's LinkedIn & Business, Facebook & Business, and Tweeting & Business. With a B.A. in Philosophy from Bucknell University, Andrew also engages in a range of community volunteer work. In his free time, he enjoys fly fishing, cycling, and collecting meaningless trivia.





Brooke Hails – Family and Luxury Travel Expert at Castles and Cruises Travel
I just wanted something to give me something to do while the kids
were at school. It became part of my heart. I love it. I have such a
passion for helping others see the world.
Brooke Hails is the Family and Luxury Travel Expert at Castles and Cruises Travel. Brooke Hails has always had a deep love for traveling, evident from her earliest days when she embarked on her first international flight at just 6 weeks old. With her father's dedicated service of over 38 years at Delta, Brooke, and her family had the incredible opportunity to explore various destinations across the globe, forging cherished memories together. Among the different ways to travel, cruising stands out as Brooke's favorite. She has experienced the wonders of renowned cruise lines such as Royal Caribbean, Celebrity, and Costa, among others. In fact, it was during a cruise that Brooke met her future husband, and they later got engaged on another memorable cruise adventure. With an enchanting beginning at a young age, Brooke's fascination with travel sprouted while watching Cinderella, her first-ever movie at the age of three. Mesmerized, she sat in her mother's lap throughout, captivated by the magic and wonder unfolding on the screen. Since that transformative day, Brooke's passion for all things Disney has flourished. Living in close proximity to Disney has allowed her family to make frequent visits, granting them cherished opportunities to spend time with their beloved princesses and characters. Brooke's true passion lies in creating lasting memories and spending quality time with her family on a daily basis. Her innate attention to detail and unwavering dedication to creating family fun experiences translate into valuable assistance for others, saving them time and relieving stress while adding immense value to their vacations. Brooke wholeheartedly desires to help others plan and craft memories that will be treasured happily ever after by them and their families.