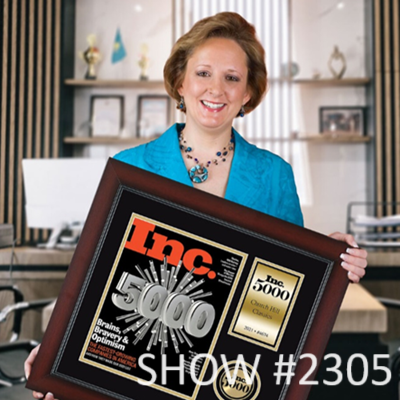 10 Nov

November 10, 2023 – Customer Experience David Ewing and Diploma Framing Lucie Voves 



David Ewing – Founder of Motiv 
You are always going to have good moments with your customers. And
you're going to have bad moments. These are the moments that matter.
The high highs and the low lows. The key is how do you respond and how
do you change the customers' attitude at those moments that matter.
David Ewing is the Founder of Motiv, a cutting-edge firm specializing in Oracle CX solutions. After graduating from Harvard, David founded Motiv in 2001 as a consulting group out of San Francisco.  Since becoming an Oracle partner in 2005, Motiv has become the largest Oracle CX exclusive partner in the world. As CEO, David has a passion for leading with heart and sharing his experiences, fostering deep relationships with others through his humor and captivating storytelling. David is also the Austin EO President, leading over 200 entrepreneurs in numerous industries. He has revolutionized the realm of customer service since 1998. With a keen understanding that altering customer attitudes drives ideal behaviors, David has transformed this insight into substantial revenue growth for over 500 clients. A Harvard cum laude graduate in Engineering, his leadership acumen has not only propelled Motiv to the Inc 5000 list of America's fastest-growing companies but has also generated millions in additional revenue for their clients. Beyond his professional prowess, David's leadership extends to the community as the president of The Entrepreneur's Association, Austin Texas Chapter, where he's committed to unlocking every entrepreneur's potential. Outside the boardroom, David is the proud coach of his son's robotics team and cherishes his 19-year marriage, considering it his crowning achievement.





Lucie Voves – Founder of Diploma Frame 
One of my regrets would be that I didn't go get funding faster. The silver
lining of that is that I never took venture funding and I own 100% today.
Lucie Voves started founded Church Hill Classics as a side hustle, while working days as a marketer at Procter & Gamble. She started custom framing in her basement at night. When Lucie Voves started Church Hill Classics 30 years ago, she didn't set out to create college diploma frames. In fact, her original intention was purely nostalgic: to find a framed illustration of a building that was near and dear to her heart, Dartmouth Hall. Lucie and her husband Joe were college sweethearts, and with so many amazing memories of their years at Dartmouth College, she really wanted something special to hang in her first corporate office. When she couldn't find a print of Dartmouth Hall, she decided to commission the artwork herself in 1991. It got Lucie thinking that there had to be other Dartmouth alumni with the same sentimental desire, so she printed 500 lithographs, took a crash course in picture framing, and set up a makeshift tabletop booth on a street corner at Dartmouth College over graduation weekend. The response was incredible! In fact, the artwork sold so well that other town merchants complained that she was cutting into their sales. Lucie knew they were onto something. Her framed art grew in popularity, and she added other campus views when they started selling at The Dartmouth Coop. Along the way, she heard from consumers who loved the art and asked if she would frame their diploma to match. Lucie created her first diploma frames for Dartmouth, and shortly thereafter expanded to Williams College, Princeton, UConn, Yale, and Syracuse. Today, Church Hill Classics carries a wide array of document and diploma frame styles for thousands of colleges, high schools, honor societies, the U.S. Military, and professional institutions. For many, their college campus will always be their "home away from home." College logos and images of campus landmarks have a way of instantly transporting individuals to the memorable events and friendships that shaped their young adulthood. Best of all, they remind Lucie of how she met her college sweetheart—and created a sweetheart of a business!