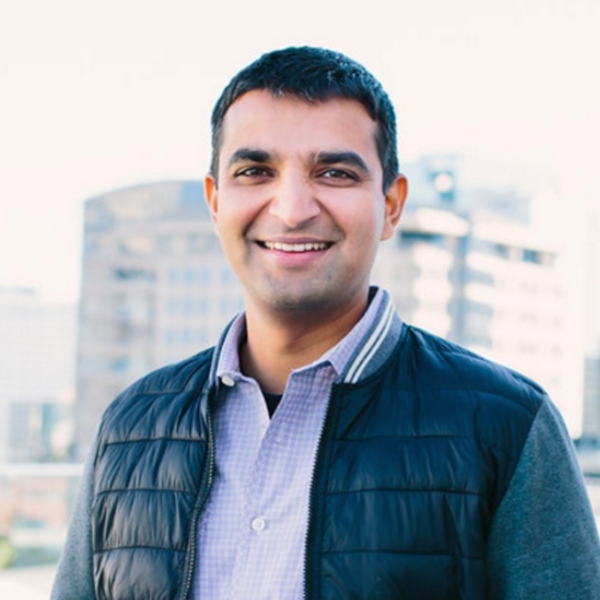 21 Oct

October 21, 2019 – Account Selling Sangram Vajre, The Jump Jason Scott Montoya and Facebook/PTA/Kid Safety

"The audio file was removed when we switched hosts. Sorry. The cost was prohibitive. If you need the file, contact us and we will send it."

Sangram Vajre – 2x Author – Co-founder at Terminus, a.k.a the "Accidental" Chief Evangelist – FlipMyFunnel Podcast Host – Read interview highlights here
Less than 1% of leads are turning into customers. 99% of the leads that marketing and sales people create don't drive revenue.
Sangram Vajre is a co-founder of Terminus and the author of the first book on account-based marketing (ABM). He created the FlipMyFunnel Community in 2014 to provide a place for B2B marketing and sales innovators to foster the account-based mindset and to learn from each other. Sangram is an international keynote speaker, big hugger, and host of the top 50 business podcast called FlipMyFunnel with over 100,000 subscribers.

Jason Scott Montoya – Full Time Freelancer and the Author of The Jump: From Chaos to Clarity for Your Striving Small Business
Most sales require 8 to 12 followups before you close the deal and most salespeople give up before number 8.
Jason Scott Montoya is a full-time freelancer. In the past, he attempted to make an animated feature film, launched a political news website, graduated from the Art Institute Of Atlanta, and owned a marketing agency for seven years. He's one of the three originators of IDEMA, a framework for capturing and sustaining ideas, and the author of a parable titled The Island Story. In his journey, he has personally experienced and seen others experience the life of surviving in isolation. In his times of need, others helped and inspired him when he needed it. As a result, his personal aim is to inspire others to a place of thriving and togetherness. His new book, The Jump: From Chaos To Clarity For Your Striving Small Business, launches September 28th 2019. The book is geared towards stuck small business owners. They've been at the same (or dropping) revenue for several years straight and they don't know how to overcome the gap and make the business be what they want it to be. They must take four steps and take the leap to get to the other side. 1. Become a better leader, 2. build a strong business foundation, 3. bring their loyal team along, and 4. create bullet proof systems. Once they're ready, Jason shares a five stage process for transitioning from chaos to order.

Antigone Davis – Head of Global Safety at Facebook and Collin Robinson – PTA Connected Ambassador and National PTA Board Member
Not all screen time is created equal. If they are mindlessly scrolling, that's one thing. But what kids have the ability to do on their devices these days is be content creators. So it's always, 'What is my kid doing while they're on the phone?' It's not that they're on the phone or how long.
Antigone Davis spearheads the efforts of Facebook's Safety Advisory Board, a team of leading safety organizations from across the globe that provide Facebook with cutting edge research and advice on best practices, as well as its Global Safety Network. Antigone also serves on the International Advisory Board for WePROTECT and the boards of the Family Online Safety Institute, the National Center for Missing and Exploited Children and the National Network to End Domestic Violence. Prior to joining Facebook, Antigone spent 10 years working for a State Attorney General. As Senior Advisor to the Attorney General, she helped establish the office's first online privacy and safety unit. She also led the National Association of Attorneys General's 2012-2013 presidential initiative "Privacy in the Digital Age." Before serving in the public sector, Antigone used her juris doctorate from the University of Chicago Law School as a corporate attorney and her masters in education as a middle school and high school teacher. Antigone received her B.A. from Columbia University.
Collin Robinson serves as a member of the National PTA Board of Directors and as Chair of the Bylaws Committee and works as a freelance web developer. As a long-time PTA member & leader, with professional experience in the digital space, Collin was named PTA Connected Ambassador in 2018. PTA Connected is an initiative of National PTA to educate and engage families in digital wellness, security, access, equity and literacy. Collin is the proud dad of two school-aged children and has been an active PTA parent leader at the local, regional, state and national levels. He served as president of Oregon PTA from 2015-2017. 

Highlights from Sangram's Interview
Eric and myself, we started the company about five years ago. We're now close to 200 people, based in Atlanta. We all started with this common pain that we felt as far as being in marketing and sales. Prior to this, I ran marketing and was at Salesforce. I remember distinctly when we hit every single record there was at Salesforce, in terms of number of leads we needed to generate for the business. What happened was the next very next day, my head of sales came to me and said, "Hey, can you just raise another thousand leads?" And I just sank in my seat, because I was like, if all I do is generate leads as if they are dropping from heaven somewhere, that's not a job that I ever signed up for, just to be a coin operated lead machine. Then that very year, Forrester came out with the research that says less than 1% of leads are turning into customers. Let me say that again, and in a different way. 99% of the leads that marketing and sales people order, the leads they create, don't drive revenue. So the account marketing platform that Terminus is started to build. We have about 700 customers or so, it's really focused for B2B companies to be able to target wherever their target accounts are. So if you are a company that is targeting Fortune 500 financial services companies, we will help you get your ads, messaging and analytics of engagement from the companies that you care to serve the best. And that's really the platform that we have built.
What you would do is essentially IP and cookie targeting, which means through digital advertising, we will get your message in front of all the CMOs in the company that you want to go after. The CFO that you care about in those companies will get your message in front of them through LinkedIn, through any other sites out there, on Fox or CNN or any reputable websites out there. We will make sure that your message is front and center through digital advertising and very targeted, even though if they are on a regular computer, or if they're on their phone with mobile ads. You'll definantly be able to get in front of them anywhere they go. We have a ton of incredible data partnerships that allow us to do that.
On top of that, this is what I'm really excited about. This is the question that I think most marketers are unable to answer to their executives, which is okay. I want to target the CEO of Wells Fargo or CFO of Wells Fargo. Did anybody from Wells Fargo come to our website? Does any engagement happen from Wells Fargo? The majority of the time, there is no answer to that. So what we have done is we track all these engagement points that are coming from different websites and all the intense information that comes through it, and we're able to serve it back to the sales team. Now all of a sudden, your sales team will know that Wells Fargo is one of our target accounts that started to engage on our website, and I need to start calling them without them ever filling out the form. That creates a much earlier engagement cycle, gets you earlier in the sales process than waiting for a website form to list them.
We believe in growing based on the results that we see, on the ones very clearly defined in their target list. When you go around and ask people how many companies can you actually serve, and who are the ones that you can actually serve, and they say 3,000, 5,000 10,000, 100,000. The reality is, if you're a B2B company, the chances are you need to close 500 accounts this year. And if you do that, you are a phenomenally high growth company in the marketplace. What we have companies do is, first create that list of target accounts to go after, so we are in complete alignment that these are the companies with a focus. That's what account based marketing is, you need to be able to focus on the accounts that you want to go after, and not just go after any company, because unless you're selling Nike shoes, or something like that, you should know your target account list. That's what account marketing is by definition. If you have a cardboard box manufacturing company, then there are about five companies out there that should buy your product. Why would you create blogs and random content and wait at the door for somebody to knock? Instead, why not proactively go in another way? Imagine putting a digital billboard in front of the UPS store or UPS headquarters that says that we sell cardboard boxes, imagine every single person walking out of that company and that function, that department sees that anywhere they go. That's exactly what we try to do online.
More people are using our software. One of the big things is that data by itself is all over the place. If you are a company, if you're a business to business company today, you know very well that your Salesforce system, or any system that you're using today is at 60% to 80%. The email address is different, people have changed jobs, the company names are not in the right format. All kinds of data issues that companies have people spending millions of dollars fixing. What we try to do is not rely on all of your data. What we rely on is the list of companies you want to go after. People come into our software, upload a list of companies like Wells Fargo, UBS, Bank of America, definitions of 10 companies, and in these 10 companies I want to target they will include the title of the role that they want to target. "I want to target this procurement team; I want to talk to the finance team, and I want to target the operations team because they are part of the decision making committee when it comes to big, big purchases like these." And then they would say, "Here's our message very specific to them."
I'll give you a quick example. One of the customers, they do IP solutions for really fast growing companies, they're going to be a billion dollar company in the next few years. And they run 500, I kid you not, 501 campaigns. Let me explain what that means. That means they come into our software, they build one ad for one person, and they have different people. So they'll create different apps for different personas within that. The manufacturer, the CFO is a persona, the operations is a persona, all these personas. Then they will take you to a landing page that is not gated, which means there is no ebook or anything like that, this content is created just for that company. In this case, it's like a digital billboard. Then the retargeting, and they have three direct mails, and they have a sales process all geared to that one account. The win rate, as you can imagine, is off the roof, because the level of sophistication of one-to-one campaigning that they're doing is why they win almost eight out of ten times in their deal.
It's not the cheapest offer in the world, but what I've seen is it depends on how big your deals are. So if you were to come to us and say, "My deal size is $50 or $100 all of the month," we probably have another software that you should use, because it's going to be cost prohibitive. But if you came to us, and we have companies that say this, "We're a small company, we don't have a lot of budget, but our deals are $50,000, $100,000 or in some cases through your sales cycles, $500,000 deals," I cannot imagine you not doing account based marketing, regardless of using Terminus or not. The reason is, because you have such a big deal and such a longer sales process, and so many people are part of the decision making process. I don't think you can afford not to surround all of them with your message anywhere they go online or offline. The strategy first, product and technology later.
The book has stories of six companies that have gone from good to great, as Jim Collins would say. They all use this framework, which we have called the TEAM framework in the book. It stands for target, engage, activate, and measure. Let me just say that again, team framework is target, engage, activate and measure. If you apply this four step process you would be on a way to make that $400,000 business into a $4,000,000 business.
The idea is first figure out the list of 10 or 15 companies you need to target. Not everybody, focus on those 10. That is something that you'll hear me say all the time in the book. You want to figure out the list of companies you want to really serve, and if you win those deals, you will make double your business. The target, figure out the list. Second, figure out what's the best way to engage. Maybe digital advertising is a way to engage with them, maybe it's not. You could use direct mail. Maybe it is events, because there are local companies that you have around your city or in your neighborhood where you're selling. Figure out ways that the engagement strategies that you want to double down on make sense for your target audience. Once you figure out the target, then activate. This is, by far, the misstep in the majority of organizations. Have you activated your sales team to be nimble enough to focus on only a few accounts? Not 100, not 200 accounts, but 10 accounts, 50 accounts? How do you activate it? How do you give them content, everything they need to make sure that they're front and center of their target list of accounts? Finally, is measurement. Continually, every week you're figuring out, has this tactic worked, has this engagement strategy worked, has the way of people engaging with us on the website or offline worked? If you iterate to this target, engage, activate measures, we believe that the majority of companies can double their business. We have tons of stories and case studies around that.
It just makes sense. But I am more than surprised that, as I said, we have over 700 customers like Salesforce, Manhattan Associates, and GNH. These are really big companies and then midsized companies. Fabulous companies like Sales Loft in Atlanta for example, and others. We have a ton of customers. What these companies are trying to do is focus.
I'll give you another quick example. Thomson Reuters is one of our company's customers, and their story's in the book. They focus on only 50 accounts. That's it. They were saying, "We have a ton of accounts, but we focus on two key accounts to upsell, because existing customers don't know that we have these seven other products that they have." So they put a team together and start doing account based strategies for these 250 accounts. And the win rate, I kid you not, is 95% on those 250 accounts. But guess what? The person is promoted, the team is doubled, and now they're doing 500 accounts. But the idea of focus and targeting cannot be understated.
The book is available on Amazon and anywhere books are available. We write a lot on LinkedIn. So if you follow me on LinkedIn, I'm SangramVajre, we will love to connect.