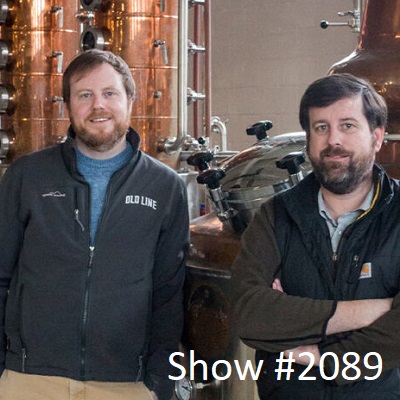 27 Sep

September 27, 2022 – Whiskey Entrepreneur Mark McLaughlin and Ted Talk at 87 Eileen Greene



Mark McLaughlin – Old Line Spirits
I have learned very quickly to not turn my nose up at an
account, or a customer, who may not fit the mold of what
I think an account or a customer should look like for us.
I have been proven wrong many times.
Arch Watkins and Mark McLaughlin met in the Navy flying EA-6B Prowlers, ended up stationed in the same reserve squadron in Baltimore, and embarked on civilian careers after retiring from the Navy. But when you've spent decades flying off aircraft carriers and being stationed all over the world, a desk job isn't enough. Initially, civilian life wasn't fulfilling for Mark and Arch, so they started exploring opportunities in areas that they were passionate about. One of those is whiskey — the less-explored category of American Single Malt, to be exact. They connected with Vietnam veterans and owners of Golden Distillery in 2015, who taught them how to distill and even bequeathed their equipment to Mark and Arch. In 2017, Mark and Arch opened Old Line Spirits with a full operating distillery and courtyard bar called The Ready Room. Today they produce American Single Malt whiskeys and aged Caribbean rums. Mark McLaughlin is a 2001 graduate of Villanova University. Upon graduation he was commissioned as a naval officer and served for 10 years as a Naval Flight Officer flying the EA-6B Prowler aircraft. Upon completion of active service, Mark attended the University of Virginia Darden School of Business where he completed his MBA. Mark worked as an investment banking associate with Stifel Nicolaus from 2012 through 2014 where he had extensive M&A and capital raising experience, primarily in the Industrials and Aerospace & Defense industries.



Eileen Greene – Ted Talk Speaker at 87
Everything that I have done has added growth to my
life and an opportunity to give back.
Eileen Greene is an empowered and fearless woman who strongly believes that there's no age to achieve your goals and dreams. After raising her three sons, went on an unrelenting campaign to educate herself and experience life to the fullest. She became: One of the first people to be certified in NLP by Tony Robbins. A Ted Talk Lecturer Lectured about sex at high schools for Planned Parenthood, Became certified Hypnotherapist, Bar Mitzvahed and received her Master's Degree in Spiritual Psychology Completed a 2 year program in Volunteer Work from University of Judiasm Certified in Interior Design At 93 she is an active Life Coach using Hypnotherapy and Psychotherapeutic methods to help her clients. The subject of a Ted Talk that she gave at the age of 87 was that It's never too late to do anything your heart wants you to do in this lifetime…except when it is and this talk ended with a standing ovation from the crowd.