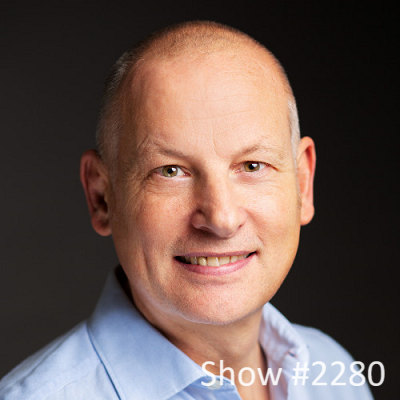 21 Sep

September 21, 2023 – Go to Mkt Expert Paul McIntosh and The Creative Positivist David H. Moskowitz



Paul McIntosh – Founder & CEO of Bridgehead Agency
Our specialization and expertise as a business is making sure startups can
successfully expand no matter what industry they are in and achieve revenue
in as quickly as 90 days.
Paul McIntosh is a Go-to-Market expert, mentor, sales leader, and advisor. He has over twenty-five years of world-class experience in business development, sales, and marketing at the highest level in both blue chip Companies such as Cisco, BBC and Lego plus start-up and scale-up businesses spanning both B2B and B2C tech sectors. Over the past 13+ years, Paul has helped drive countless new brands, products and services to market very successfully with the team here. A mentor and advisor to start-ups & scale-ups and is a Patron of The Caring Cancer Trust charity. Paul McIntosh is a world-class Go-To-Market Expert and Commercial Leader renowned for his invaluable contributions to over 70 companies seeking to penetrate, establish, and expand their presence across the United Kingdom, Europe, the United States, and Canada. His multifaceted expertise encompasses strategy development, commercial acumen, and adept project team leadership, as well as a proven track record in sales, business transformation, and the dynamic landscape of business growth and scalability at the highest echelons. Paul has consistently demonstrated his prowess in achieving and surpassing key objectives, whether within blue-chip corporations or in the agile environments of startups, scale-ups, and rapidly expanding operations throughout the UK, Europe, and North America. As a visionary CEO and Founder, he is driven by an unwavering passion to assist companies in achieving international expansion and bolstering their presence in domestic markets. Furthermore, Paul has cultivated invaluable European relationships, holding pivotal connections with senior professionals across diverse B2B and B2C sectors, including Retail, E-Commerce, Service Providers, Utilities, Telecom, Property, Construction, Government, Enterprise, and Strategic Partnerships. His extensive industry experience spans across SaaS, FinTech, PropTech, AgriTech, Cybersecurity, CPG, Consumer Electronics, Emerging/New Technologies, IPTV, Smart Home, Energy, and the Games Industry, further underscoring his remarkable breadth of knowledge and expertise.





David H. Moskowitz practiced law as an attorney for 50 years and has now retired from practicing law. He is still involved in real estate development and construction and in biopharmaceutical ventures. When he practiced law, his practice concentrated on real estate and municipal law (serving as counsel to municipalities, municipal authorities, and civic associations), civil litigation, corporate law (as counsel to public companies and private companies), and international law (working on commercial and/or real estate projects and representing clients in China, Singapore, Malaysia, Thailand, Canada, Mexico, Australia, New Zealand, Hong Kong, Isle of Man, and several nations in Europe). David graduated from college with a degree in accounting (Penn State, 1957) and finished law school three years later (Villanova Law School, 1960). Before David started practicing law, he decided that he should obtain an education in many subjects, including history, literature, economics, sociology, psychology, politics and philosophy. David was admitted to Wadham College in Oxford University arriving there in September 1960. He attended lectures and started reading books in the subjects above. The law tutor in Wadham College, Mr. P.B. Carter, called David to his office and informed him that he needed to work under the supervision of a tutor. David was attending the lectures of Professor H.L.A. Hart, who was the Professor of Jurisprudence. He approached Hart after a lecture and asked him if he would be David's tutor. They discussed the subjects that David wanted to study, and Hart agreed to tutor David. They met weekly for the 1960-61 academic year and talked about many subjects. After the first year, Hart informed David that he only worked with graduate students. Hart tested David's ability to be a graduate student by assigning him to read his book The Concept of Law and providing a critique. Hart said that he thought David's critique of his book included some important points that they should continue discussing during the school year and he declared that David was now a graduate student and that he should write a thesis for the D.Phil. degree. They met for a second year, continuing some of the discussions left over from the prior year, touching upon many of the issues in The Concept of Law and developing the ideas that became part of David's doctoral thesis. David finished the thesis after the second year with Hart and received the D.Phil. degree after the oral defense of his thesis in April 1963. Following his completion of his Doctorate in Philosophy, David served as a law clerk for a Court of Common Pleas judge for one year. After that year, he spent a post-doc year at the Universidad Nacional Autonoma de Mexico studying with Professor Luis Recasens Siches. He then served a second clerkship with the judges of the Court of Common Pleas of Bucks County for one year. He began practicing law in 1964 in Doylestown, Pennsylvania. During the years 1967 to 1972, David taught political science at Rider College. During the years 1972-1975, David taught jurisprudent as an adjunct professor at Villanova Law School. David wrote his first book Exclusionary Zoning Litigation in 1976. In 2017, he authored a second book Finding the Genetic Cause and Therapy for ADHD, Autism and 22Q which details the discovery of a genetic cause and drug therapy for ADHD, autism and 22q, which will allow patients to control their symptoms for these three diseases. Huge Jam published the first book in the Creative Positivist series, The Judge and the Umpire in 2022. The 2nd book in the series, The Judge and the Creative Positivist followed in 2023.