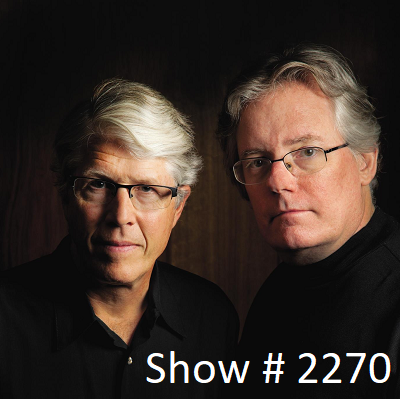 01 Sep

September 1, 2023 – NYT #1 Best Selling Fiction Partners Douglas Preston & Lincoln Child



Douglas Preston – Co-Author of Dead Mountain (Nora Kelly Book 4)
Remember for writers, it's not a book, it's a career. Keep going, just keep
going. You might have a book that fails, you might have a book that gets
bad reviews, just to make sure you keep going. Eventually you will gain
a readership if you're any good.
Douglas Preston is the Co-Author of Dead Mountain (Nora Kelly Book 4). Douglas Preston was born in Cambridge, Massachusetts, in 1956, and grew up in the deadly boring suburb of Wellesley. Following a distinguished matriculation at a private nursery school, where he was almost immediately expelled, he attended public schools and the Cambridge School of Weston. Notable events in his early life included the loss of a fingertip at the age of three to a bicycle; the loss of his two front teeth to his brother Richard's fist; and various broken bones, also incurred in dust-ups with Richard. (Richard went on to write The Hot Zone and The Cobra Event, which tells you all you need to know about what it was like to grow up with him as a brother.) As they grew up, Doug, Richard, and their little brother David roamed the quiet streets of Wellesley, terrorizing the natives with home-made rockets and incendiary devices mail-ordered from the backs of comic books or concocted from chemistry sets. After unaccountably being rejected by Stanford University (a pox on it), Preston attended Pomona College in Claremont, California, where he studied mathematics, biology, physics, anthropology, and geology, before settling down to English literature. After graduating, Preston began his career at the American Museum of Natural History in New York as an editor, writer, and manager of publications. Preston also taught nonfiction writing at Princeton University. His eight-year stint at the Museum resulted in the non-fiction book, Dinosaurs in the Attic, edited by a rising young star at St. Martin's Press, Lincoln Child. During this period, Preston gave Child a midnight tour of the museum, and in the darkened Hall of Late Dinosaurs, under a looming T. Rex, Child turned to Preston and said: "This would make the perfect setting for a thriller!" That thriller would, of course, be Relic. In 1986, Preston piled everything he owned into the back of a Subaru and moved from New York City to Santa Fe to write full time, following the advice of S. J. Perelman that "the dubious privilege of a freelance writer is he's given the freedom to starve anywhere." After the requisite period of penury, Preston achieved a small success with the publication of Cities of Gold, a nonfiction book about Coronado's search for the legendary Seven Cities of Cibola. To research the book, Preston and the photographer Walter W. Nelson retraced on horseback 1,000 miles of Coronado's route across Arizona and New Mexico, packing their supplies and sleeping under the stars–and nearly killing themselves in the process. Since then he has published other nonfiction books on the history of the American Southwest. In the early 1990s Preston and Child teamed up to write suspense novels; Relic was the first, made into a movie by Paramount Pictures. In Relic they introduced one of the most celebrated fictional detectives of modern times, Special Agent A.X.L. Pendergast. Relic has been followed by more than a dozen other books in the Pendergast series, including The Cabinet of Curiosities, Still Life with Crows, and Crooked River. Their last twenty novels in a row have been New York Times best-sellers, including several reaching the #1 position. Relic and The Cabinet of Curiosities were selected by in a poll by National Public Radio as being among the 100 greatest thrillers ever written. Preston has also continued a career in journalism. He writes about archaeology, history and paleontology for the New Yorker magazine, as well as for Smithsonian, National Geographic, Harper's and the Atlantic. In the course of his journalistic profession Preston has explored lost temples in the jungles of Cambodia, been the first to enter a tomb in the Valley of the Kings in Egypt, and ridden on horseback across thousands of miles of the American Southwest-which earned him membership in the elite "Long Riders Guild." In the year 2000, Preston moved with his family to Florence, Italy, to write a murder mystery set in Tuscany. Instead of writing the novel, he became fascinated by the story of a serial killer named il Mostro di Firenze, the Monster of Florence. He teamed up with an Italian journalist, Mario Spezi, who was an expert on the case. In 2008 they published a nonfiction book, The Monster of Florence, which was a huge bestseller, spending four months on the New York Times list. The book won journalism awards in both Italy and the United States. It is currently under development as a film. The same Italian prosecutor who charged Preston with crimes in the Monster case, Giuliano Mignini, was the prosecutor who accused Amanda Knox of murder in 2007 in Perugia. Preston became one of Knox's defenders. In 2009, Preston argued on "48 Hours" on CBS that the case against Knox was "based on lies, superstition, and crazy conspiracy theories." Preston appeared on numerous television shows defending Knox and explaining the Italian legal system, including the Today Show, Anderson Cooper 360°, and on Megyn Kelly's "The Kelly File" on Fox. Preston wrote about the case in a Kindle Single, Trial by Fury: Internet Savagery and the Amada Knox Case. Preston's most recent nonfiction book, The Lost City of the Monkey God, published in January 2017, tells the true story of the discovery of an ancient, Pre-Columbian city in an unexplored valley deep in the Mosquitia Mountains of Honduras. It was a number 1 New York Times Bestseller and named by the Times as a notable book of the year. In 2010, Preston participated in the first USO tour sponsored by the International Thriller Writers organization, along with authors David Morrell, Steve Berry, Andy Harp, and James Rollins. After visiting with military personnel and wounded soldiers at National Navy Medical Center and Walter Reed Army Medical Center, the group spent a week in Iraq, meeting with soldiers and signing books, marking the first time in the USO's 69-year history that authors had visited a combat zone. n 2014, Preston founded the organization Authors United. During a contract dispute between Amazon and the publisher Hachette, Amazon tried to put pressure on Hachette and other publishers by delaying shipment, blocking availability and eliminating discounts on 8,000 books, causing severe financial harm to 3,000 authors. Preston garnered the support of like-minded authors, including many Nobel Laureates and Pulitzer Prize winners, as well as hundreds of midlist, debut, and struggling young authors, who signed an open letter protesting Amazon's unfair negotiating tactics. Preston currently serves as President of the Authors Guild, the nation's largest and oldest association of authors and journalists. In addition to Authors United, Preston was one of the early founders of International Thriller Writers and served as its Co-President. He was appointed a Fellow of the Royal Geographical Society and was elected to the Long Riders Guild, an international association of equestrian travelers. In 2011, Pomona College conferred on Preston the degree of Doctor of Letters, honoris causa. He serves on the advisory board of the School for Advanced Research. He had received several awards for his work, including an Edgar (shared); 2016 Association of Authors' Representatives Appreciation Award; 2005 PCA National Award for Distinguished Contribution to American Literature and Popular Culture; 2005 Audi Award for Fiction; NPR Reader Award for Best Thriller (twice); Milan International Book Fair 2012 Lifetime Achievement Award (Italy); Premio Speciale per la Libertà di Stampa (Italy) 2006; Premio Orme Gialle (Italy) 2006. He is an avid skier, mountain climber, and hiker. He counts in his ancestry the poet Emily Dickinson and the obstetrician and early sexologist Robert Latou Dickinson. Preston's great-grandfather eight times back in a direct line was Samuel Wardwell, who was hung as a witch in Salem in 1692 and is listed in the Salem Witch Trials Memorial.





Lincoln Child – Co-Author of Dead Mountain (Nora Kelly Book 4)
Very few writers make enough off the sweat of their brow to make a go of it.
Lincoln Child is the Co-Author of Dead Mountain (Nora Kelly Book 4). Lincoln Child was born in Westport, Connecticut, which he still calls his hometown (despite the fact that he left the place before he reached his first birthday and now only goes back for weekends). Lincoln seemed to have acquired an interest in writing as early as second grade, when he wrote a short story entitled Bumble the Elephant (now believed by scholars to be lost). Along with two dozen short stories composed during his youth, he wrote a science-fiction novel in tenth grade called Second Son of Daedalus and a shamelessly Tolkienesque fantasy in twelfth grade titled The Darkness to the North (left unfinished at 400 manuscript pages). Both are exquisitely embarrassing to read today and are kept under lock and key by the author. After a childhood that is of interest only to himself, Lincoln graduated from Carleton College (huh?) in Northfield, Minnesota, majoring in English. Discovering a fascination for words, and their habit of turning up in so many books, he made his way to New York in the summer of 1979, intent on finding a job in publishing. He was lucky enough to secure a position as editorial assistant at St. Martin's Press. Over the next several years, he clawed his way up the editorial hierarchy, moving to assistant editor to associate editor before becoming a full editor in 1984. While at St. Martin's, he was associated with the work of many authors, including that of James Herriot and M. M. Kaye. He edited well over a hundred books–with titles as diverse as The Notation of Western Music and Hitler's Rocket Sites–but focused primarily on American and English popular fiction. While at St. Martin's, Lincoln assembled several collections of ghost and horror stories, beginning with the hardcover collections Dark Company (1984) and Dark Banquet (1985). Later, when he founded the company's mass-market horror division, he edited three more collections of ghost stories, Tales of the Dark 1-3. In 1987, Lincoln left trade publishing to work at MetLife. In a rather sudden transition, he went from editing manuscripts, speaking at sales conferences, and wining/dining agents to doing highly technical programming and systems analysis. Though the switch might seem bizarre, Lincoln was a propeller-head from a very early age, and his extensive programming experience dates back to high school, when he worked with DEC minis and the now-prehistoric IBM 1620, so antique it actually had an electric typewriter mounted into its front panel. Away from the world of publishing, Lincoln's own nascent interests in writing returned. While at MetLife, Relic was published, and within a few years Lincoln had left the company to write full time. He now lives in New Jersey (under protest–just kidding) with his wife and daughter. A dilettante by natural inclination, Lincoln's interests include: pre-1950s literature and poetry; post-1950s popular fiction; playing the piano, various MIDI instruments, and the 5-string banjo; English and American history; motorcycles; architecture; classical music, early jazz, blues, and R&B; exotic parrots; esoteric programming languages; mountain hiking; bow ties; Italian suits; fedoras; archaeology; and computer MMORPGs.