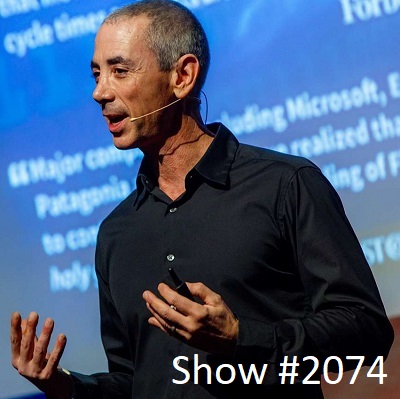 01 Sep

September 1, 2022 – Powerlinx Meir Shachar, IBM Improves Sports Noah Syken and Devil's Dictionary Steven Kotler



Meir Shachar – CEO of Powerlinx
OFFER: Download the app and register by September 30th
and send a message to tech support with School for Startups
in it, we will upgrade them to Powerlinx Premium Power
Plus for free, a $200 value!
Powerlinx, the world's leading B2B business matchmaking platform. Powerlinx is the business opportunities sharing app, where companies can find customers, suppliers, and partners to grow their business. In other words, the platform consists of customers and businesses that are actively seeking partnerships. What makes the company unique is their partnership with Dun & Bradstreet, a business data analysis leader. They allow companies to use their Dun & Bradstreet number to verify their company on Powerlinx. Meir Shachar is a veteran in the startup ecosystem. Meir started working at the age of 10, in Argentina, his birth place. From fixing boxes at his uncle's pharmacy, to working in the insurance and financial sector, to acting as CEO of Powerlinx, Meir has experienced it all. He has worked at all ends of the supply chain and held a variety of positions, in addition to having worked in Argentina, New York, and Israel. Ultimately, he has a lot of stories. Whether it be about cultural differences in business depending on one\'s location, or how to make an impact in a plethora of industries, he has advice to share.



Noah Syken – Vice President of IBM Sports and Entertainment Partnerships
New this year we have the IBM Watson Trade Analyzer. When you
make a trade proposal in fantasy football, Watson is going to be at
your shoulder giving you insight into the trade and who's getting
the upper hand.
Noah Syken is Vice President of Global Sponsorships and Client Executive Programs at IBM. He is responsible for leading the Strategy and Partnerships related to IBM's global sponsorship portfolio, which includes partnerships with US Open (tennis), The Masters (golf), The GRAMMYs, Wimbledon, and more. Technologies including artificial intelligence (AI) and cloud computing are enabling fans around the world to have new immersive experiences of their favorite sport and players. New for this year, IBM is introducing AI-powered fan experiences for tennis and football fans, in partnership with the United States Tennis Association (USTA), which hosts the US Open, and with ESPN via ESPN Fantasy Football. At the end of this month, the US Open tennis tournament kick offs. For the past 30 years, IBM has worked closely as the technology partner of the USTA to elevate the digital and fan experience for US Open. This year, new technology solutions will be introduced along with a redesigned app and website to enhance the fan experience and a new at the 2022 US Open. For the sixth football season, IBM's Watson artificial intelligence technology will be integrated into ESPN's Fantasy Football app, to help fantasy football players make the most informed decisions and smartest trades when managing their fantasy teams. New this year, IBM is introducing Trade Analyzer with Watson, which will leverage IBMs data processing capabilities through Watson's artificial intelligence to turn trade data into insights. When fans propose or accept a trade, Trade Analyzer with Watson will surface key information to fans that focuses on both player's roster needs, such as boom or bust trends, position ranks, and player grades. This information will provide ESPN Fantasy Football users of all skill levels with a trade proposal's value, allowing fans to make more informed roster decisions throughout the season. IBM has a long history of delivering next-generation digital experiences for some of the world's most revered sports and entertainment events and venues. IBM's sports partnerships are centered around engaging with fans digitally, and utilizing data in new ways, with the same AI, hybrid cloud and security technology leveraged by IBM enterprise clients.



Steven Kotler – Human Potential Expert and New York Times Bestselling Author and Author of The Devil's Dictionary
Flow follows focus. Flow can only show up when our attention
is here and now. All of the flow triggers draw attention to the
present moment.
Steven Kotler is a New York Times bestselling author, an award-winning journalist, and the Executive Director of the Flow Research Collective. He is one of the world's leading experts on human performance. Steven is the author of ten bestsellers (out of fourteen books), including The Art of Impossible, The Future is Faster Than You Think, Stealing Fire, The Rise of Superman, Bold and Abundance. Steven's work has been nominated for two Pulitzer Prizes, translated into over 50 languages, and has appeared in over 100 publications, including the New York Times Magazine, Wired, Atlantic Monthly, Wall Street Journal, TIME, and the Harvard Business Review. He is also the cohost of Flow Research Collective Radio, a top ten iTunes science podcast. Along with his wife, author Joy Nicholson, he is the cofounder of the Rancho de Chihuahua, a hospice and special needs dog sanctuary.