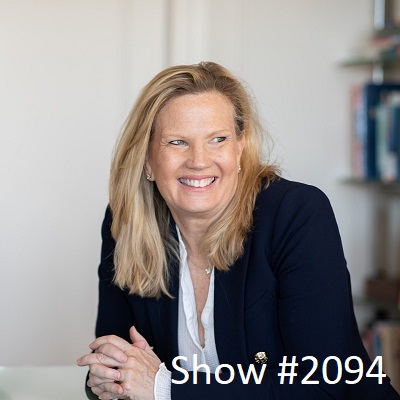 05 Oct

October 5, 2022 – Magnetic Vision Patrick Donohue and JobCoachAmy Amy Feind Reeves



Patrick E. Donohue – Founder of Hill Capital Corporation and Author of Breakout Valuation: How to Finance Your Future  
Magnetic vision is having entrepreneurs being able to share what
their business is going to do long term. Valuation is actually pretty
simple. It is just discounting future cashflows. The problem lies in
the ability for the entrepreneurs to share a long-term vision of
what that business is going to achieve.
Patrick E. Donohue is an entrepreneur and valuation expert who got his start with a lemonade stand at age four and buying shares of Coca-Cola at age ten. As an investor, stock analyst, and advisor to numerous entrepreneurial ventures, he offers unique insights into the dynamics of money and business. The founder of Hill Capital Corporation, a private investment fund that finances and supports emerging growth companies, Patrick holds the Chartered Financial Analyst (CFA) designation, has served on the boards of Entrepreneurs' Organization of Minnesota and the CFA Society of Minnesota, and founded 1 Million Cups Eden Prairie.

Amy Feind Reeves – Founder of JobCoachAmy and Author of College to Career, Explained: Tools, Skills and Confidence for Your Job Search
There needs to be a return to management fundamentals. I see a
need to return to basics and away from this notion of leadership,
leadership, leadership where the people who are being led
need to be managed.
Amy Feind Reeves is the Founder and CEO of JobCoachAmy, where she leverages her 25+ years of experience as an executive and hiring manager to help professionals at all levels of their careers find and keep jobs that make them happy. Her corporate consulting practice focuses on career coaching for Millennials and Generation Z, as well as consulting on practical approaches to implementing improved management practices. As a sought-after expert, speaker, and career coach, Amy works globally with clients across a wide variety of industries including finance, consulting, media, consumer products, technology, and healthcare. Her functional expertise–gained from nearly two decades of working with companies and organizations to reduce costs, increase revenue, and improve processes–is significant across all areas of business operations. She has been featured in countless media including the Wall Street Journal, BusinessInsider.com, Yahoo.com News, Upjourney.com, Hive.com, The Baltimore Sun, Chicago Herald Tribune, Yahoo News, and Job-Hunt.org. As a speaker, Amy has spoken at City Year, Dartmouth Alumni Women's Leadership Conference, is also a regular speaker for undergraduate and new alumni groups, as well as is a speaker at women's conferences and Canyon Ranch. Prior to launching her business, Amy held a variety of positions including commercial banker, global management consultant, corporate executive, and non-profit executive. Her passion for supporting others in their careers comes from the difficult time she had found her way after college and when she needed to change careers after finding herself a single mother. She has become an author to expand her reach and passionate advocacy for people seeking to find their paths to success in the professional world. College to Career, Explained: Tools, Skills & Confidence for Your Job Search, Amy's first book, will debut this summer. It provides insightful strategies and common-sense tactics to help job seekers make a smooth transition from college to career. Using a proven methodology and unique insight that only someone who has sat on the other side of the interviewing table for many years can provide, College to Career, Explained is ultimately for the young professional or new grad looking for career guidance, or the more seasoned professional looking for pointers or to brush up on basics. Currently, Amy supports the Anaya Tipnis Foundation in scaling its operations nationwide and developing its career services workshops. The Foundation offers scholarships, mentoring, and support to first-generation college students as well as provides internship and networking opportunities.