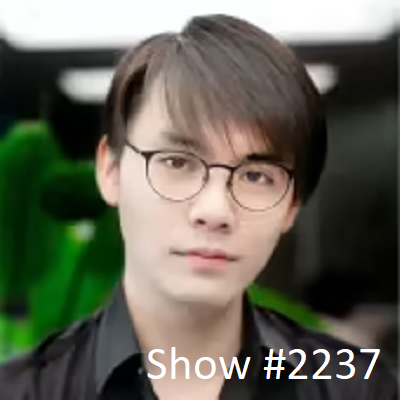 21 Jun

June 21, 2023 – Breaking the Code Rusty Gaillard and Giftpack Archer Chiang



Rusty Gaillard – Executive Coach for CEOs of Scaling Companies, Ex Apple Director of Finance and Author of Breaking The Code: Stop Looking for Answers and Start Enjoying Life
Don't go build a great product before you sell it. Your first step should be
to sell something. Sell the products and then you can build it and deliver it after the fact.
Rusty Gaillard is a highly regarded coach, working with founders and CEOs to achieve faster and smoother growth and lead the business to a successful exit. Former Worldwide Director of Finance at Apple, Rusty blends decades of hands-on business experience with leadership principles to help executives be more bold, decisive, and action-oriented. Rusty is the author of the best-selling book Breaking the Code and is a sought-after speaker and trainer. After his tenure at Apple, Gaillard transitioned into the field of executive coaching, leveraging his extensive experience to guide and mentor CEOs of scaling companies. He has a deep understanding of the challenges and complexities that leaders face as they navigate growth, innovation, and organizational transformation. As an executive coach, Gaillard has helped numerous CEOs and top executives unlock their full potential, enhance their leadership skills, and drive sustainable growth within their organizations. He is known for his empathetic approach, strategic thinking, and ability to identify blind spots and facilitate personal and professional development. In addition to his coaching practice, Gaillard is an accomplished author. His book, "Breaking The Code: Stop Looking for Answers and Start Enjoying Life," offers valuable insights and actionable strategies for individuals seeking a more fulfilling and balanced life. The book encourages readers to shift their mindset from constantly searching for answers to embracing the present moment and finding joy in the journey. Rusty Gaillard continues to make a significant impact through his coaching, speaking engagements, and written work, empowering leaders to thrive in the fast-paced world of scaling companies while finding meaning and happiness in their lives. A graduate of Stanford Business School, he enjoys singing karaoke with his wife and running mud races with his 16-yr old son.





Archer Chiang – Founder & CEO of Giftpack Inc.
People don't like swag. They want something personalized for them. The
purpose of sending gifts is to get people to remember you and to improve
your relationship. That is why we are here.
Archer Chiang is a young and dynamic entrepreneur who has already made a significant impact in the tech industry. At the young age of 19, he embarked on a journey to become a tech founder, and since then, he has founded several successful companies. Archer has an impressive business portfolio with footprints in the US, Taiwan, China, Japan, and South Korea. Despite being born in South Africa, Archer was raised in Taiwan, where he developed a deep passion for technology and innovation. He later moved to the United States and settled in New York City, where he has been able to leverage his skills and experience to create groundbreaking solutions that merge technology and humanity. Archer is an enthusiast of building products that make a difference in people's lives. He believes that technology should not only be about profits but also about solving real-world problems. For him, gifting is one of the answers to the world's problems. Archer believes that gifting is a powerful way of connecting people and creating a sense of community. Archer's relentless pursuit of excellence has earned him a reputation as a thought leader in the tech industry. He is always on the lookout for new opportunities to create innovative solutions that transform industries and improve people's lives. With his entrepreneurial spirit, passion for technology, and commitment to social responsibility, Archer is set to continue making a significant impact in the tech world for years to come.