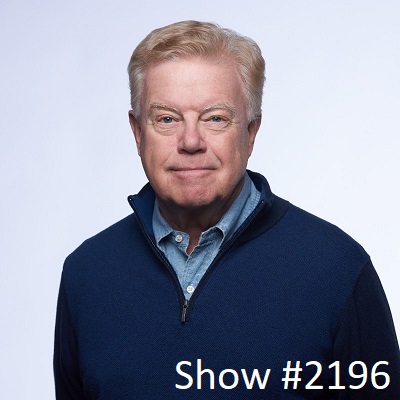 31 Mar

March 31, 2023 – Whatever Decision Making Richard A. Moran and Letting Apps Talk Linden Tibbets



Richard A. Moran – Venture Capitalist, Evangelist for Organization Effectiveness and Author of Never Say Whatever: How Small Decisions Make a Big Difference
Entrepreneurs often suffer from a false sense of activity. They can have
meetings back-to-back to back, but it is So what? Who cares? Did you make
the company more successful? I am trying to help entrepreneurs get out of
the 'whatever trap,' which often leads to a false sense of activity.
Richard A. Moran is a noted San Francisco based author, business leader, venture capitalist, and evangelist for organization effectiveness. He is best known for his series of humorous business books beginning with bestselling, Never Confuse a Memo with Reality that started the genre of "Business Bullet Books."​ His body of work includes ten books about using common sense in business. He is the host of the CBS syndicated radio program, "In the Workplace". He has served as a CEO, college president, global consultant and board member. He has appeared on CNN, NPR and most major media outlets. He continues to work with organizations to help them make better decisions. Rich Moran's unique background allows him to provide a perspective about business and life that few others can share. He shares those unique observations in his latest book, Never Say Whatever, How Small Decisions Make a Big Difference. He has worked for or with some of the world's leading organizations including Accenture, Apple, News Corp, American Airlines, PG&E and many others. He prides himself on his matter-of-fact manner of consulting and believes that many parts of the business world are needlessly complicated. He brings that perspective to bear as it relates to decision-making in Never Say Whatever. Moran holds a Ph.D. in organization behavior but his work is not academic. Research is important but he believes what is just as critical are the observations one can make by being in the "trenches" of business. His observations are candid, humorous and true. He has been an investor in successful companies as well as those who failed. He has served on corporate boards such as Glu Mobile and not-for-profit boards including the CraigsList Foundation. He still serves as an investor/advisor and is current on what is happening in the business world from Elon Musk to the "Great Resignation" and the "Great Layoff."



Linden Tibbets – Co-Founder and CEO of IFTTT
You can expect that anything you are using now for free will in some way be
something you pay for, or have a very different relationship with, in the near
future. That time where you could start it, give it away for free, get lots of
people using it and figure out how to monetize it afterwards is over.
Linden Tibbets is the Co-Founder and CEO of IFTTT, an online platform that empowers you to do more with your favorite apps and smart devices by helping them automate and integrate so they can work together seamlessly. 700+ apps, services, and devices, including the world's biggest brands like Google, Discord, Slack, Dropbox, Alexa and Fitbit, as well as millions of their users rely on IFTTT for their most important integrations. From reminders (such as putting on sunscreen when the UV index is high) to notifications (letting your spouse know you've left work and are heading home, automatically), to tapping into the Internet of Things (turning on your lights when you unlock the front door) — IFTTT makes it easy to control and customize your world. To date, they've raised $62.5M from investors, including Salesforce and IBM, and their users perform 1B+ automations and integrations monthly. Linden launched IFTTT in 2010. Before that he worked at IDEO, the renowned product design firm, as a communications designer.