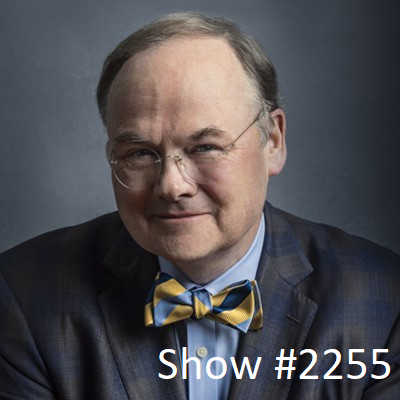 31 Jul

July 31, 2023 – The Value Equation Chris Volk and AI Datapreneurs Bob Muglia
Christopher H. Volk – Ernst and Young Entrepreneur of The Year Winner and Author of The Value Equation: A Business Guide to Wealth Creation for Entrepreneurs, Leaders & Investors
The last company I started was with $20,000 of my personal money
and we raised a half billion dollars to start.
Chris Volk has an interest in corporate business models, financial statement analysis and finance. He guided the initial public listing and assume the presidency of his first real estate investment trust, a business that became a national leader in providing lease and mortgage financing solutions for restaurant and other chain store operators. Over the next three decades, Chris was instrumental in founding and then publicly listing two other successful and market-leading net lease businesses. The most recent of these is STORE Capital, a company Chris guided for a decade as its founding chief executive officer through the beginning of 2021. The business models of all three companies, backed by strong leadership teams, delivered attractive shareholder returns while benefitting a broad array of stakeholders. Altogether, Chris oversaw the successful deployment of more than $20 billion in net lease and mortgage capital to thousands of growing businesses across the United States. Chris began to write about corporate finance early in his career, with articles covering subjects from financial statement analysis to business valuation and real estate investing. In 1999, he devised the Value, or V-Formula, a simplified equation to determine business equity returns. That year, he wrote an inaugural article that would go on to win the Lybrand Gold Medal, bestowed for the best article of the year by the Institute of Management Accountants. Later, Chris would write articles that expanded on his early V-Formula observations, culminating in an eventual award-winning video series that he created while chief executive officer at STORE Capital and which inspired this book. He was a 2019 regional winner of Ernst & Young's Entrepreneur of The Year® award. He serves as a visiting professor to Cornell University, lectures at many colleges and serves on multiple charity boards. He resides with his wife in Paradise Valley Arizona and Huntsville, Alabama.





Bob Muglia – Board Member of RelationalAI and Author of The Datapreneurs: The Promise of AI and the Creators Building Our Future
For startups there has never been more opportunity for people to build
solutions. What is incredible about AI is it allows you take expertise in any
given domain and essentially encapsulate that.
Bob Muglia is a data technology investor and business executive, former CEO of Snowflake, and past President of Microsoft's Server and Tools Division. As a leader, Bob focuses on how innovation and ethical values can merge to shape the Data Economy's future in the era of AI. He serves as a board director for emerging companies that seek to maximize the power of data to help solve some of the world's most challenging problems. Bob Muglia helps us understand how innovation in data and information technology has led us to AI—and how this technology must shape our future. The long-time Microsoft executive, former CEO of Snowflake, and current tech investor maps the evolution of the modern data stack and how it has helped build today's economy and society. And he explains how humanity must create a new social contract for the artificial general intelligence (AGI)—autonomous machines intelligent as people—that he expects to arrive in less than a decade.