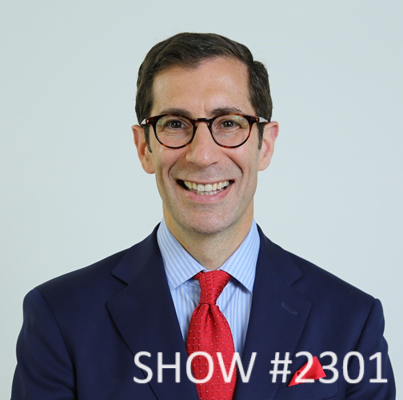 01 Nov

November 1, 2023 – Dale Carnegie CEO Joe Hart and AI Consultant Glenn Gow



Joe Hart – CEO of Dale Carnegie and Co-Author of Take Command: Find Your Inner Strength, Build Enduring Relationships, and Live the Life You Want 
Two people can have the exact same circumstances, the house, the
mortgage, the broken shoulder, whatever. One person is miserable,
down, and negative, and the other person is thriving. The difference
is what they think.
Joe Hart began his career as a practicing attorney. After taking a Dale Carnegie Course, Joe reassessed his career path and future, ultimately leaving the practice of law, going to work for a top real estate company, and then founding an innovative e-learning company called InfoAlly. After selling that business five years later, Joe became the president of Asset Health, a US-based health and wellness company—all before becoming the President and CEO of Dale Carnegie in 2015. In 2019, the CEO Forum Group named Joe as one of twelve transformative leaders, giving him the Transformative CEO Leadership Award in the category of the People. He is the host of a top global podcast, "Take Command: A Dale Carnegie Podcast", and he speaks around the world on topics such as leadership, resilience, and innovation, among other things. Joe and his wife, Katie, have six children, two dogs, and one cat. He is an active marathoner, having run many races, including Boston, New York, Chicago, Berlin, Detroit, and Toronto.



Glenn Gow – AI coach and Consultant 
It is the white-collar jobs that are at the most risk because of A.I. The
skills that this type of AI brings to the party is replacing some of the
skills that you used to pay a lot of money for.
Glenn Gow was a CEO for 25 years (and in venture capital for 5 years) and taught him more than just business; it taught him the essence of leadership. Now, he applies his insights by coaching CEOs to create their own personal and corporate successes. Keynote Speaker on AI For the last 5 years, Glenn has been helping the C-Suite prepare for the impact of AI. His keynote sessions simplify AI for leaders, ensuring the C-Suite will leverage AI for better strategy, governance and financial results. Board Member On the board, Glenn is the AI expert. Boards benefit from his deep understanding of AI when he drives the conversations around risk, governance, oversight and strategy. He was founder and CEO of Crimson Consulting Group, where he ran the company for 25 years. His work includes Apple: launch new products into new markets, Facebook: leverage marketing technology, Microsoft: a "competitive migration" program creating $100M in incremental revenue, Cisco: a global GTM approach resulting in $250M of additional revenue and Google: doubling the number of leads for the sales organization.