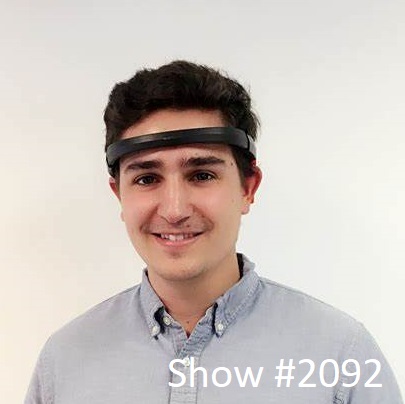 03 Oct

October 3, 2022 – BrainCo Max Newlon and Local Retail Jill Strickland Brown



Max Newlon – President of BrainCo – Creator of the FocusCalm
You can take a few breaths and see your FocusCalm score go up.
You realize, 'Oh my God I can control my brain!' That is a really
powerful experience.
Max Newlon is the President of BrainCo, a company that brings cutting-edge science, engineering, and algorithm development to address real-world challenges. It all grew out of the Harvard Innovation Lab and in 2019, they won Time Magazine's Top 100 Inventions of the Year, and they have raised $6M so far. They are most known for FocusCalm, a neurofeedback wearable headband, and app that can help you reduce stress, control your mindset, and improve overall performance. FocusCalm has been used by elite athletes, including Olympians and F1 drivers, and everyday people who want to relax and manage anxiety. A study on FocusCalm users found they got a 25% boost in their wellbeing, a 13% reduction in their anxiety, and a 22% drop in their feeling of burnout after 6 weeks of using the wearable for just 15 minutes a day. Before joining BrainCo, Max earned his master's degree from Harvard University and conducted functional MRI (fMRI) research at some of the best hospitals in the world on the impact of meditation and yoga on the brain, as well as the impact of invasive BMI technology on people with Parkinson's disease.



Jill Strickland Brown – Founder of Frox and Author of Behind the Button
It's not about price. It's about loyalty.
Cheap does not buy loyalty.
Jill Strickland Brown is an entrepreneur, author, and founder of Frox, making her way in the fashion industry for more than 30 years, including working as a seven-figure sales rep and owning successful luxury boutiques. She organizes events to connect with and empower women. She is a featured contributor in the book Success Reimagined: Inspiring Stories of Local Leaders. Jill is a free-spirited, out-of-the-box, and everything-is-possible kind of girl. She shares her can do message of inspiration and empowerment through her contagious charisma with everyone she encounters. She resides in Pennsylvania, enjoys spending time with her family, and invites the next chapter of life with open arms in a running-baste-stitch kind of mindset.