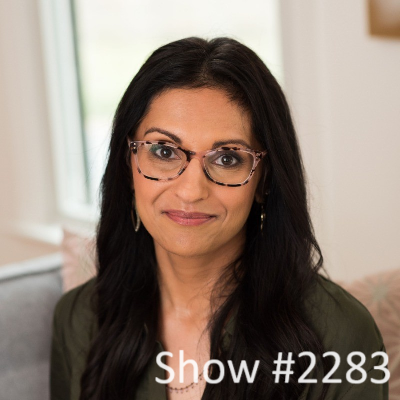 27 Sep

September 27, 2023 – Building an Investment Biz Elliot Kallen and Building a Non-Profit Sonia Kahlon



Elliot Kallen – Owner of Prosperity Financial Group and Co-Author of the Book DRIVEN: How to Elevate Your Success as an Entrepreneur
In the financial services industry, the key thought for you is to develop
trust. If you make them money and they don't trust you, they will still
fire you. If you lose money and they trust you, they trust you to help
turn it around. Trust is everything.
Elliot Kallen is the Owner of Prosperity Financial Group and Co-Author of the Book DRIVEN: How to Elevate Your Success as an Entrepreneur. Prosperity Financial Group, is an investment advisory firm with $300M+ assets under management. They have helped thousands of individuals, including business owners and retirees, manage their money and achieve financial independence. Elliot has 40+ years of entrepreneurial experience and has founded three other companies, including A Brighter Day, a nonprofit organization that provides scholarship funds and mental health resources to teens experiencing stress, depression, and suicidal thoughts. He started the nonprofit in 2015 in memory of his youngest son, Jake, who committed suicide at 19, and it is helping thousands of teens and their families understand, protect, and sustain their mental health. Elliot is also an author, and he recently published his second book, The Entrepreneurial Path to A Life That Matters, which offers advice for entrepreneurs on leadership, including how to lead in difficult circumstances. He has received many awards, including the 2020 Marquis Who's Who Lifetime Award, Strathmore's Who's Who Award, and the Ronald Reagan Gold Medal Award





Sonia Kahlon – Founder of EverBlume
I decided to pick a day and allow people to sign up for a free meeting.
I acted like it was a meeting that I had been running for a long time and
it was amazing.
Sonia is the founder of EverBlume which provides small group recovery meetings where members are matched into groups based on what they are struggling with. The goal is for members to find connection through conversation, and get meaningful support and feedback from each other. Sonia is an orthodontist who built and sold a successful multi-location practice in 2016 and got sober in 2017. Since then, she become a recovery coach and has dedicated her life to making a difference with social impact investing and volunteering with the incarcerated, formerly incarcerated, and victims of sex trafficking. And now she hopes to create her biggest impact by leveraging the power of peer support to create a community for those on their recovery journey. Sonia Kahlon built and scaled her own orthodontist practice over the course of 6 years, experiencing explosive growth along the way. But just as her career was booming, her mental health spiraled out of control, and she developed an addiction to alcohol. When her life became unsustainable, she decided to sell her practice and get sober. Fast forward to 2022, when the end of a long-term relationship saw her struggling with her sobriety once more, and seeking out meetings to avoid self-medicating. Kahlon found that many of the existing meetings deprived her of feedback, advice or individualized support – which was what she truly needed. Kahlon decided it was time to become a certified recovery coach and launch an organization that would more directly help women struggling with alcohol. That's how she became the founder of EverBlume, which hosts intimate, online group recovery meetings where individuals are matched according to the specific challenges they are currently facing. In Sonia Kahlon's perspective, she observed that conventional online group recovery meetings typically gathered anywhere from 50 to 200 participants, with only a small fraction, approximately 5%, actively sharing their personal stories. Over time, she noticed that the same individuals tended to dominate these discussions, resulting in a passive form of recovery akin to listening to a podcast, rather than fostering a robust support system. Moreover, she observed that these meetings primarily centered around sobriety, overlooking the myriad other challenges individuals faced, including self-esteem issues, imposter syndrome, job burnout, divorce, and the complexities of parenting at various stages, as well as caring for ailing relatives. To address these shortcomings, Sonia pioneered a novel approach, matching individuals based on their shared experiences, struggles, and successes, rather than demographic or socioeconomic factors. This approach allowed participants to connect on a deeper level, transcending differences in age or their respective stages of recovery. A significant turning point for Sonia's initiative occurred when EverBlume gained viral attention on TikTok. Following months of relatively modest traffic, a post about her personal journey as a high-functioning alcoholic garnered over 650,000 views, drawing an outpouring of comments from people sharing their own struggles, offering mutual support, and providing valuable advice. This spontaneous community formed through comments was a testament to the impact and significance of the platform. Building trust with their clientele was paramount for Sonia and EverBlume. They offered free meetings to allow individuals to explore the platform before committing, actively engaged with their audience on social media, and appeared on podcasts to demonstrate the concept's effectiveness. Reflecting on her past experiences, Sonia Kahlon emphasized the crucial importance of prioritizing one's health, recognizing that neglecting mental well-being and personal care, as she had done during the rapid growth of her previous business, can lead to adverse consequences. Her primary goal with EverBlume was simple yet profound: to help one person transform their relationship with alcohol, tailored to their unique needs and aspirations. On challenging days, when she grappled with her own sobriety, Sonia remained motivated, reminding herself that every action she took, be it writing a post, hosting a group meeting, or coaching a client, contributed to her overarching goal of supporting individuals through EverBlume. A pivotal moment in Sonia's personal journey occurred with the election of Kamala Harris as Vice President. Initially thinking of her nieces who would finally see representation in the White House, Sonia's perspective shifted as she found inspiration in seeing an educated woman, who had chosen to be childless, achieve significant success. This revelation reassured Sonia, dispelling feelings of inadequacy in comparison to friends with children, and allowed her to embrace the life she had envisioned for herself.