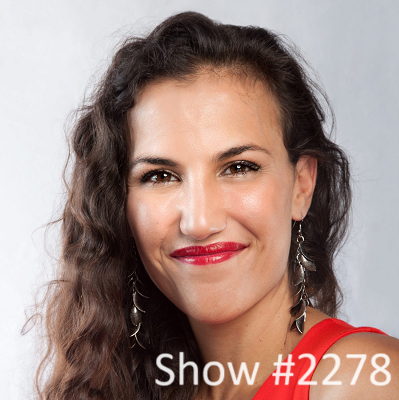 18 Sep

September 18, 2023 – Parenting Platform Lauren Raimondi and Beyond Information Geoff Blaisdell



Lauren Raimondi – Co-Founder of Poldit
This quote will be added soon, sorry!
Lauren Raimondi is the Co-Founder of Poldit, an information-sharing site that fuses AI and community insights. Poldit was founded in 2022 when Lauren, pregnant with her son and seeking information about the pregnancy process, found that it was hard to obtain quality information in one place without having to sift through advertisements and misleading information. Poldit seeks to consolidate information into one place for ease of use. A serial entrepreneur, the New York-based mom started All Aces Promotional Staffing at just 24, managing staff for experiential marketing campaigns from her dorm room at college. All Aces puts together teams of brand ambassadors to interact with consumers to engage with them and create brand loyalty on a personal level. Lauren graduated from Boston University. Experiential marketing has been a part of Lauren Raimondi's life since her college days, encompassing various aspects such as event staffing, influencer collaboration, and now, virtual events. In the face of challenging times, she recognizes that growth and adaptation are vital for any thriving business. Lauren has always harbored a deep appreciation for the creative ideas and meaningful connections forged with people. At the core of her philosophy lies a profound belief in the significance of relationships in every successful marketing campaign, with a strong emphasis on the concept of "Family." Diverging from the norm where many event staffing firms treat their personnel transactionally, Lauren's All Aces takes a unique approach by considering their staff as an integral part of their extended family. They pledge unwavering support to their team, resulting in a reciprocal commitment to delivering exceptional experiences. The assurance provided by All Aces is that their staff will consistently deliver top-notch experiences to your event's audience, elevate your client's brand, maintain a high level of professionalism, and optimize your return on investment. The credibility of this guarantee is rooted in a well-kept secret that has propelled All Aces to win nearly every industry award, maintain one of the industry's highest staff retention rates, achieve remarkable client retention rates, receive outstanding client feedback, and experience an astounding growth rate of over 300% in just a few short years—all under the leadership and dedication of Lauren Raimondi.





Geoff Blaisdell – Founder of Beyond Information
This quote will be added soon, sorry!
Geoff Blaisdell is the Founder of Beyond Information. An experienced digital leader, executive, advisor, and investor with over thirty years of success at the intersection of finance and technology, Geoff has held key roles at Blackrock, Fischer Francis, and most recently as Head of Technology at Western Asset Management—responsible for over $1 billion in global IT and digital deployment and leading teams of over 300 people in support of USD hundreds of billions of global AUM. The Beyond Formation Blueprint distills his extensive experience and passion for mentorship into a proven system designed to make sure more founders make it big. When Geoff Blaisdell transitioned from the corporate world to become an advisor, VC LP, and angel investor, he sought a faster pace of innovation and change than what directing technology for a well-established global financial powerhouse could offer. While funding startups' dreams brought excitement, Geoff found greater reward in imparting practical, hard-earned advice and expertise, enabling entrepreneurs to turn their visions into reality. Recognizing that numerous entrepreneurs possess groundbreaking ideas but lack a fundamental understanding of business operations, Geoff realized the value of equipping them with the knowledge needed to navigate the complexities of entrepreneurship. His extensive experience has taught him that in business, shortcuts often lead to significant costs, and mistakes can prove costly. Geoff understands that not every promising startup gains entry into an incubator or accelerator, and he aims to provide them with the tools to establish a strong foundation from the outset. Creating, iterating, and sustaining the structure of a business is Geoff's forte—a skill honed over three decades. He takes pride in this work and excels in it. Beyond Formation, the platform he founded, shares the system and lessons he has refined throughout his career. For founders or foundational employees of early- or mid-stage startups wondering why they should trust a tech expert for business guidance, Geoff's journey from humble beginnings in a coastal Maine lobster pound to the C-Suite of major corporations at the intersection of finance and technology offers a compelling answer. His tech expertise seamlessly integrated with every facet of the companies he worked for, affording him invaluable hands-on experience and behind-the-scenes insights into the mechanics of successful business operations. This deep and broad knowledge forms the foundation of Geoff's success, and it is the driving force behind Beyond Formation. The Beyond Formation Blueprint, a result of his years of experience, provides a proven pathway to maximum valuation. It deconstructs the process of building, managing, and funding a world-class business into a series of practical, actionable steps and results-oriented strategies that anyone can begin implementing immediately. Geoff acknowledges that he didn't acquire this knowledge in isolation; his Blueprint was influenced and elevated by some of the brightest minds in startup and business development. He is grateful for their generous insights and believes that every entrepreneur needs a team at some point. When that time comes, Beyond Formation stands ready to offer Assessment, Advisory, Turnkey Techstack, and Fractional Leadership services to startups at any stage of their growth journey.