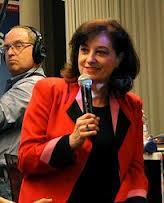 03 Sep

September 3, 2013 – Super Linker Diane Darling & MobileCause Daniel Scalisi

Broadcast September 3, 2013 on Liberty Express Radio

"The audio file was removed when we switched hosts. Sorry. The cost was prohibitive. If you need the file, contact us and we will send it."

Diane Darling – Professional speaker, LinkedIn Expert, Author of The Networking Survival Guide, Second Edition: Practical Advice to Help You Gain Confidence, Approach People, and Get the Success You Want
Diane has a knack for helping others learn how to build mutually beneficial relationships, even if they're an introvert. She was LinkedIn member #15,418 and quickly became one of the top LinkedIn experts. As a relationship management guru,  McGraw-Hill published her books in 7 languages! Some of her clients are Harvard Business School, MIT Sloan, London School of Economics, Cisco, Bank of America, Fidelity Investments, 20th Century Fox and the American Cancer Society. She is great at teaching LinkedIn, building relationships, and helping people determine where & when to network.
Daniel Scalisi – Co-Founder/EVP Sales & Market Development of MobileCause
Daniel is Co-Founder of MobileCause, a really cool mobile fundraising and donor engagement platform. The platform is built to operate with SaaS in the cloud, enabling nonprofit and enterprise organizations to fund raise and effectively engage donors through mobile and social channels. Interestingly, Daniel and his Co-Founder just hired a CEO to replace themselves, and are excited about the freedom to help the company more. The company builds rich donor profiles to drive engagement for effective mobile and social communication with the complete launch and management of mobile giving, engagement, messaging, and analytics. Daniel is responsible for building MobileCause into a leading enterprise company by building its market position combining direct and indirect sales.