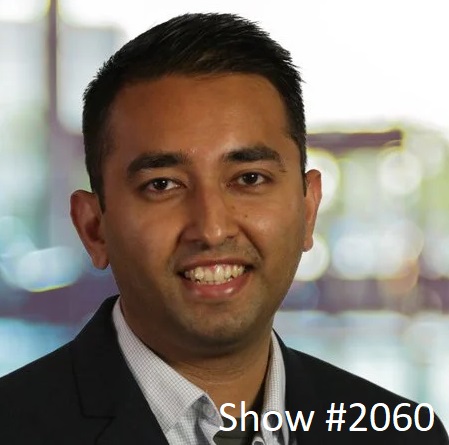 05 Aug

August 5, 2022 – ShipBob Dhruv Saxena, Small Biz Acquisition Financing Chris Hurn and IBM Security Limor Kessem



Dhruv Saxena – Co-Founder of ShipBob
ShipBob has effectively scaled to 60 fulfillment centers around
the globe, and we have 7000 businesses who trust us every day
helping them pack and ship their orders. Think of us like Amazon
Prime. Every independent e-commerce retailer could be using us
for giving their customers a two-day shipping experience.
Dhruv Saxena is Co-Founder and CEO of ShipBob with an incredible story. Dhruv came to America (from India) in 2007 to pursue an undergraduate engineering degree. He attended Purdue University for both his Bachelor's and Master's degrees in electrical engineering, and after graduating, worked as a software developer and engineer in Chicago. Dhruv and co-founder Divey Gulati founded ShipBob from their apartment, going to extreme lengths to get the startup off the ground in 2014 – including marathon coding sessions and poaching their first ShipBob customers while they waited in long lines at post offices to ship their packages! Today, ShipBob is valued at over $1 billion (June 2021) and has seen tremendous growth over the past few years – they recently opened their newest fulfillment center in Toronto in March. Dhruv is truly an American success story and can discuss his personal journey along with current industry trends, tips for ecommerce startups looking to scale their business and his outl ook for the future of ecommerce, shipping, logistics and fulfillment.



Chris Hurn – Founder/CEO of Fountainhead – The Nation's Leading SBA 7(a) and 504 nonbank Lender and Author of The Entrepreneur's Secret to Creating Wealth: How the Smartest Business Owners Build their Fortunes
We are seeing more and more small businesses do acquisitions.
We think of that as a large corporation growth strategy, but the
reality is that it works really well for small to mid sized companies
also. When you have 56% of all small businesses owned by baby
boomers and we have 9000 baby boomers retiring every day,
there are going to be lots of transactions out there.
Chris Hurn is the founder and CEO of Fountainhead Commercial Capital a Small Business Administration (SBA) approved, nationwide, nonbank, direct commercial lending firm that specializes in providing growth financing for business owners. He and his executive team have collectively closed billions worth of projects in all 50 states making them one of the most experienced teams in commercial lending to owners of small to midsized businesses. In March 2020 at the start of the COVID-19 pandemic, Chris leveraged his expertise in SBA lending to take on the Paycheck Protection Program (PPP) loans. He and his team of 35 employees processed more than 300,000 loans totaling more than $5 billion in aid and saving an estimated 430,000 American jobs – earning Fountainhead the distinction of being the nation's sixth-most-active PPP lender. During this time, Chris was instrumental in advising the White House, Congress, Treasury, SBA and Federal Reserve on implementation and improvements to PPP and the loan forgiveness process. Over his 20 year career in SBA lending, Chris has become well-known for his advocacy on behalf of small business owners and his quick expert insight. He is the host of "The SBA Loan Experts" Podcast and the Amazon best-selling author of "The Entrepreneur's Secret to Creating Wealth: How the Smartest Business Owners Build their Fortunes."



Limor Kessem – Principal Consultant, Cyber Crisis Management at IBM Security
Cyber-attacks on small businesses don't only happen once.
83% report that it happened more than once.
Limor Kessem helps organizations use threat intelligence to understand cybersecurity threats, the risks most relevant to their business, and what they can do to become more resilient. Helping customers build plans and processes for cyber crisis management adds maturity to their security programs and gets them to a prepared state that strengthens their security posture. Cyberattacks have evolved over the past two years into market-moving moments, such as the Colonial Pipeline and JBS Meats attacks that disrupted supply. The impact of this disruption is now being felt in higher prices for goods and services amidst record-high inflation and supply chain strains. IBM's 2022 Cost of a Data Breach Report revealed how and why these higher-impact data breachers have influenced the pricing of these goods and services. Through studying 550 breached worldwide organizations, the report found that 60% of these organizations raised their goods or services prices because of the breaches – and 83% of organizations revealed they have also experienced more than one data breach in their lifetime. Cybercriminals have found leverage in these organizations' critical role in global supply chains, with apparent effects.