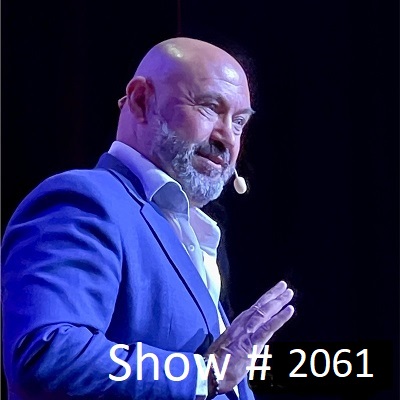 08 Aug

August 8, 2022 – False Tigers Frank Forencich and Self Leadership Andrew Bryant
Frank Forencich – Chief creative officer at Exuberant Animal and Author of Beware False Tigers: Strategies and Antidotes for an Age of Stress
When trying to reduce stress, distinguish between things that
are a threat and a challenge. Good research shows that when
you frame something as a challenge there is a beneficial
physiological response. When you frame something as a
threat, it all goes the other way and the body responds
in a different way.
Frank Forencich is an internationally-recognized leader in health and performance education. He earned his B.A. at Stanford University in human biology and neuroscience and has over 30 years teaching experience in martial art and health education. Frank holds black belt rankings in karate and aikido and has traveled to Africa on several occasions to study human origins and the ancestral environment. He is a regular columnist for Paleo Magazine and a featured teaching partner at En*theos Academy for Optimal Living. In 2012, Frank was named by Experience Life magazine as one of "Five Visionaries leading the charge to better health, and a healthier world." Also by Frank, "Exuberant Animal: The Power of Health, Play and Joyful Movement" and "Change Your Body, Change the World: Reflections on Health and the Human Predicament."



Andrew Bryant – Founder of Self Leadership International and The New Leadership Playbook : Being human whilst successfully delivering accelerated results
Positive feedback is the best way to build confidence in your
employees. Employees that receive feedback on their strengths
are 30 times more engaged than those that are only criticized.
Andrew Bryant is the founder of Self Leadership International and the world's leading expert on self-leadership. He has written two books on the topic, "Self Leadership: How to Become a More Successful, Efficient, and Effective Leader From the Inside Out" and "Self Leadership: 12 Powerful Mindsets & Methods to Win in Life & Business", and "The New Leadership Playbook – Being Human whilst delivering Accelerated Results." He has also contributed to many blogs, books, and articles on self-leadership and leadership. Andrew has coached hundreds of leaders and leadership teams to become the best version of themselves and to scale their companies. Not only has Andrew worked across geographical locations and cultures, but he has also transformed and developed leaders across industries, including the airline industry, software and hardware companies, pharmaceutical manufacturers, professional services, banking, finance, manufacturing, hospitality, and travel. He has spoken on stages around the world to audiences as large as 12,000 but can also connect via video conference from his fully equipped studio in Portugal. Qualifying as a physiotherapist in 1982, and after working in a London teaching hospital, Andrew began to work with athletes and sports teams. After low-cost, high-volume gyms disrupted his fitness and wellness business in 2000, Andrew committed to full-time coaching, writing, and speaking. A contract to teach coaching for Singapore Airlines saw him to relocate to Asia in 2004. He was the President of Asia Professional Speakers Singapore (APSS) from 2015 to 2016, is a TEDx speaker, and has been external faculty for Singapore Management University's Women in Leadership and Executive Education programs.