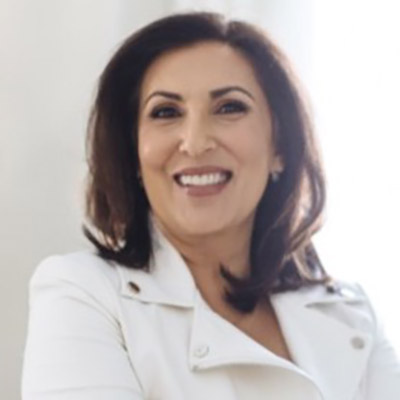 06 Jan

January 6, 2022 – Beauty Products Anisa Kaicker, Coach Pricing Christine Hansen and Feel Better Amanda Hainline



Anisa Telwar Kaicker – CEO of Anisa International Inc.
Everyone was competing on volume. I realized I needed a
product that would stand on quality if I wanted to make
any money!
Anisa Telwar Kaicker the beauty-guru based out of Atlanta. If not, she runs one of the few (and most successful) beauty operations in the city, and is the global leader in manufacturing cosmetic tools for big brand names such as brands under the Revlon, Estee Lauder, and L'Oréal umbrellas through her business Anisa International, a multi-million dollar corporation. She also owns and operates her own namesake consumer beauty tools brand, Anisa Beauty. This rock star female CEO has harnessed her knowledge to mentor other hopeful Atlanta-based entrepreneurs, who are aiming to build prosperous empires of their own. Her mentees include well-known figures in the community such as Tracey Pickett founder of Hairbrella, Luis Martinez of popular restaurant My Abuela's Food, Abbey Glass owner of fashion brand, Abbey Glass, Adam Lewites of Endeavor & Phoenix Capital Ventures + many others.




Christine Hansen – Founder of Christine Means Business
When you have something new, you underestimate what you
can charge in the beginning a lot. It is very strange to put
a price point on your skill!
Christine Hansen is an award-winning business coach & consultant running a boutique service for online entrepreneurs, creatives, and coaches who want to embrace their inner lazy, profit like a pro, and add philanthropist to their list of credentials—without ever undercharging or feeling like they have to be anyone but themselves again. She combines smart strategy and deep soul work so that you can grow and scale a business you love. Having built two successful online businesses herself, Christine found out the hard way (like losing money on sketchy business investments and ruined "put your damn laptop away!" vacation moment) that most entrepreneurs are closer to burnout than they are to reaching 6-figures. And they're still worrying…"Am I overcharging?!" Christine loves to share her different approaches to business and life and is 100% committed to helping people achieve their dreams and success by changing their mindset.




Amanda Hainline – Author of Feel Better in Five Minutes: An Empowering Guide to Gain Control Over Your Emotions
Channel your emotions in a better way. If someone is mad at
you, that is their stuff. If that makes you angry, that is the
only thing you can control.
15 years ago, Amanda Hainline accidentally went from a regular suburban mom to a full-blown psychic in 30 seconds. To cope with the understandable psychological break, she worked with earth healers and spirit guides to fight committing herself to a psychiatric hospital. Along the way she discovered the key to not only surviving but thriving as a result of her new found gifts and became a hands-on healer, working with clients all over the globe. Amanda has a certificate in Nutritional Counseling and is Naturopathically trained and loves teaching people the connection between the human energy system, mental health and physical heal