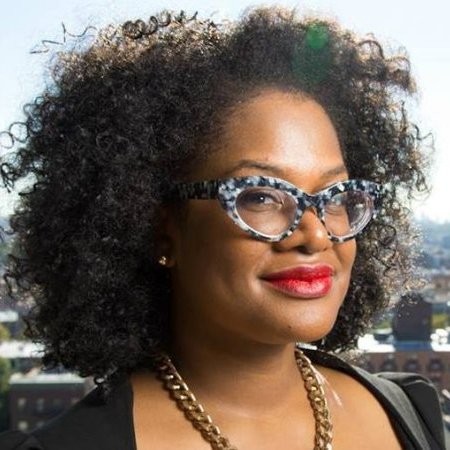 08 Feb

February 11, 2019 – Black History Month – digitalundivided Kathryn Finney and 1000 Angels Erica Duignan Minnihan
Kathryn Finney – Managing Director of digitalundivided
This is not a race, it's a marathon. Wins don't come quickly.

Even into the 90's, it was very difficult for women. They had
to have a male relative sign with them.
Kathryn Finney is the founder and Managing Director of digitalundivided (DID). Founded in 2013, DID encourages Black and Latina women to own their economic security through entrepreneurship. The BIG Innovation Center, a 4,000 square foot space located in downtown Atlanta and the BIG Incubator program, have impacted over 2000 people and helped companies raise over $25 Million in investment. She is an Echoing Green Global Fellow and Eisenhower Fellow, a White House Champion of Change and member of the National Advisory Council on Innovation and Entrepreneurship (NACIE). Kathryn has received numerous honors and awards including, an Honorary Doctorate from Mount Holyoke College, the Grace Hopper ABIE award, "10 Women to Watch" (Entrepreneur and Marie Claire Magazine), Ebony Power 100, Black Enterprise "40 under 40" list, and Spelman College's "Game Changers Academy." Kathryn was even honored by the Borough of Manhattan with the "Kathryn Finney Appreciation Day."

Erica Minnihan – Co-Founder & Managing Partner of 1000 Angels  and CoFounder of Reign Ventures

Erica Duignan Minnihan is Managing Partner at 1000 Angels, a private digital venture investment network. They provide a platform for high net worth individuals, family offices, and Venture Funds to make direct investments in a curated selection of high-growth, early-stage investment opportunities. They typically invest in companies raising Seed and Series A rounds, and focus primarily on the technology sector, although they are open to all opportunities with exceptional risk adjusted return potential. Erica has been involved with early stage startup investing for over a decade as an investor as well as an operator running her own company. Previously, Erica held leadership roles as the Director of Golden Seeds, an early stage venture capital investment group and Managing Director at Dreamit Ventures, one of the top accelerator programs for startups.